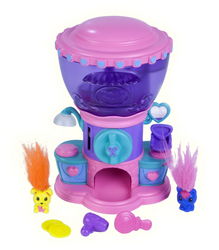 Minnetonka, MN (PRWEB) December 3, 2010
Blip® Toys, the innovative toy company behind this fall's popular line of Squinkies™ mini dolls and playsets, is pleased to announce the introduction of a new addition to the Squinkies brand: Squinkie Doos. Like Squinkies, Squinkie Doos are small, squishy, collectible figures encased in a plastic toy bubble that pops open to reveal the "surprize inside"; however, the new Squinkie Doos each also have a soft mane of colorful hair for hours of hairplay fun!
"We've been blown away by the excitement that consumers have had for Squinkies, and we wanted to offer some additional fun and affordable items in time for the holidays," said Bill Nichols, President of Blip Toys. "Hairplay has always been an extremely popular play pattern and is a natural way to extend the line. Our 'lightning in a bubble' just got an extra jolt!"
Squinkie Doos will be arriving at retailers throughout the month and are available in Toys"R"Us stores nationwide now. The line is launching with six different series of Squinkie Doo Figure Packs and the Salon & Spa Playset, which lets kids recreate the salon experience for their Squinkie Doos.
Each Figure Pack includes three Squinkie Doo characters and a small brush for styling the Squinkie Doos' hair. The Salon & Spa Playset is a Squinkie Doo dispenser AND hairstyling center all in one – the bubbles go in the salon dome and come out with the twist of the dial; once popped out of their bubbles, the Squinkies Doos can enjoy their spa experience with the included salon accessories.
Other Squinkies products, such as the Surprize! Inside Bubble Packs, the Squinkies Cupcake Surprize! Bake Shop and the Squinkies Gumball Surprize! Playhouse, have earned numerous awards since being introduced in July and have been identified as some of the most coveted toys this holiday season by many retailers and industry experts.
Squinkies fans can stay up-to-date on all the latest Squinkies news by visiting the website or by following the Squinkies Blog, Squinkies Facebook page, or the Squinkies Twitter feed.
About Blip® Toys
Established in 2000 and headquartered in Minnetonka, Minnesota, Blip Toys is a fast-reacting, trend-driven toy manufacturer. The company is focused on developing innovative new products that appeal to both boys and girls. Blip Toys strives to produce high quality products at great values. Blip Toys current product line includes Whimzy Pets, Zubber, Hair Balls, Zoom-O, Friends Boutique, and other popular toys for boys and girls. The company also produces Lego® branded children's furniture and play mats under license from the Lego Group. Visit Blip Toys at http://www.bliptoys.com. Squinkies™ is a trademark of Blip LLC. ©Blip 2010. All rights reserved.
###