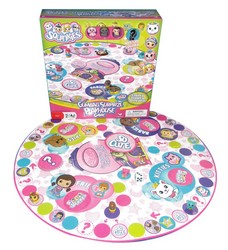 Minnetonka, MN (PRWEB) February 10, 2011
Blip® Toys, the innovative toy company behind the hugely successful line of Squinkies™ collectible figures, has announced a new licensing partnership with Cardinal Industries, Inc. to expand the Squinkies brand into the games and puzzles categories. Under the agreement, Cardinal was granted the exclusive rights to manufacture and distribute Squinkies licensed games, card games, skill & action games and puzzles to the U.S., Canada and Mexico.
The games and puzzles are all based on the adorable, bubble-filled world of Squinkies: the squishy, squashy, sqooshy mini dolls and pets that have become the must-have toy and huge collectible craze. The new Squinkies 24-Piece Lenticular Puzzles are available now at major mass retailers, while other items – including the Squinkies Gumball Surprize Playhouse Game – will be rolling out later this month and throughout the Spring.
"We are very pleased to have added Cardinal, another industry leader, to our growing family of Squinkies licensing partners," said Bill Nichols, CEO of Blip Toys. "They have done an outstanding job of creating a line of games and puzzles that allow kids a whole new and meaningful way to interact with the Squinkies brand of collectable characters!"
"We are delighted that the rights to market games and puzzles were granted to Cardinal," said Joel Berger, President of Cardinal Industries. "When the opportunity to license Squinkies was presented to us, we saw immediately that there was a way to introduce and refresh a product line that would be unique, and part of our portfolio for many years to come."
Cardinal will be showcasing the new Squinkies games and puzzles at the American International Toy Fair in New York from February 13 – 16. For more information on Cardinal's product line, please visit http://www.cardinalgames.com or stop by Toy Fair Booth #2503.
Squinkies fans can stay up-to-date on all the latest Squinkies news by visiting the website, http://www.squinkies.com, or by following the Squinkies Blog, Squinkies Facebook page, or the Squinkies Twitter feed.
About Blip® Toys
Established in 2000 and headquartered in Minnetonka, Minnesota, Blip Toys is a fast-reacting, trend-driven toy manufacturer. The company is focused on developing innovative new products that appeal to both boys and girls. Blip Toys strives to produce high quality products at great values. Blip Toys current product line includes Squinkies, Whimzy Pets, Zubber, Hair Balls, Zoom-O, Friends Boutique, and other popular toys for boys and girls. The company also produces Lego® branded children's furniture and play mats under license from the Lego Group. Visit Blip Toys at http://www.bliptoys.com. Squinkies™ is a trademark of Blip LLC. ©Blip 2010. All rights reserved.
About Cardinal Industries, Inc.
Long Island City, NY based Cardinal Industries was established over 60 years ago. The privately held company markets games and puzzles to mass market and specialty retailers in the United States and Canada, as well as to foreign branches of U.S. retailers and via distributors in countries throughout Europe. Cardinal's private label products, licensed products, and traditional family games give it #2 market share in games and #1 market share in children's puzzles in the U.S.
###