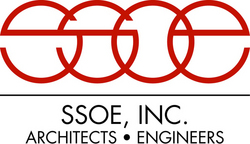 As leading designers in the field of energy, we are conducting this research to determine the impact this important legislation will have on our clients
Toledo, OH (Vocus) May 16, 2008
SSOE, one of the nation's largest architecture and engineering firms, is conducting a national survey of companies and their thoughts on the 2007 Energy Independence and Security Act. For each response SSOE receives from their on-line survey, the participant will be entered into a drawing for a $250 gasoline card.
The Energy Independence and Security Act is an energy policy law that consists mainly of provisions designed to increase energy efficiency and the availability of renewable energy. Key provisions enacted into law include:

Corporate Average Fuel Economy (CAFE). By 2020, new cars and light trucks must achieve a 40% increase in fuel efficiency, for a fleet-wide average of 35 mpg.
Renewable Fuels Standard (RFS). This section of the bill mandates production of 36 billion gallons of renewable fuels by 2022, a five-fold increase over the current standard, including a 16-billion gallon cellulosic biofuels requirement.
Energy Efficiency Equipment Standards. The bill mandates new energy standards for light bulbs, appliances, electric motors, furnaces, boilers, cooling systems and consumer products.
"As leading designers in the field of energy, we are conducting this research to determine the impact this important legislation will have on our clients," said Catherine Malicki, Vice President and Director of Marketing/PR for SSOE. "With the rising cost of energy and concerns about sustainability in recent years, we have witnessed an evolution in the services we provide to clients in all the markets we serve. Over 50% of our staff has worked on an alternative energy or biofuels project and a growing number of projects outside these industries involve strategies for energy reduction or methods to reduce environmental impact. This legislation now makes many of these strategies mandatory for our clients and we want to make sure we understand all of the implications and are ready to respond."
The results of the survey will be shared in a number of formats available to SSOE's clients and all survey respondents at no charge.
For more information or to participate in the energy survey, please visit http://www.ssoe.com/EnergySurvey.htm. You can also read SSOE's latest newsletter for a summary of the Bill http://www.ssoe.com/dimensions_newsletter.htm.
About SSOE
Celebrating its 60th Anniversary this year, SSOE, Inc. is an international design firm and ranks 8th among the nation's largest engineering and architecture firms (Building Design and Construction, 2007). Demonstrating fast and consistent growth, 2007 marks the third consecutive year the company has grown its revenue more than 25 percent. SSOE has also been named one of nine Best AEC Firms to Work For (Building Design and Construction, 2007) and as one of the fastest-growing US architecture, engineering, and environmental consulting firms by ZweigWhite, Hot List 2007.
With 1000 employees and multi-disciplined LEED™ accredited professionals employed in 18 offices around the world the company has earned a solid reputation in facility design for the healthcare, retail, automotive and science and technology markets, as well as process engineering for the alternative energy, biofuels, chemical, food and beverage, glass and personal care industries. SSOE has completed projects in 48 states and 32 countries, and has achieved 60 years of excellence in engineering and architectural design. Visit http://www.ssoe.com for additional information and career opportunities.
Contact:
Danielle Benninger
SSOE, Inc.
Office: 419.255.3830
dbenninger @ ssoe.com
# # #