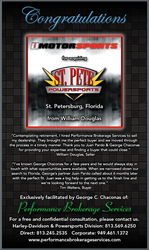 They brought me the perfect buyer and we moved through the process in a timely manner. - William Douglas
Irvine, California (PRWEB) February 28, 2017
Performance Brokerage Services, a Harley-Davidson, Powersports and new car dealership broker, announces the sale of St. Pete Powersports in St. Petersburg, Florida.
St. Pete Powersports was established in 2006 by William Douglas. It is an award-winning Powersports dealership offering new and used vehicles by Indian, Triumph, Victory, Kawasaki, Polaris and Slingshot. Following the sale, William Douglas commented, "Contemplating retirement, I hired Performance Brokerage Services to sell my Powersports dealership. They brought me the perfect buyer and we moved through the process in a timely manner. I want to thank Juan Pardo and George Chaconas for providing their expertise and finding a buyer that could close."
The buyers, Tim Walters and Haider Saba, co-founded iMotorsports in Elmhurst, Illinois. iMotorsports is one of the largest pre-owned motorcycle dealers in the country. Tim Walters shared, "I have known George Chaconas for a few years and he would always stay in touch with what opportunities were available. When we narrowed down our search to Florida, George's partner Juan Pardo called about six months later with the perfect fit. Juan was a big help in getting us to the finish line and we're looking forward to the next one."
The dealership will operate under its same name of St. Pete Powersports, under the iMotorsports umbrella. It will remain at its current location of 555 34th Street South in St. Petersburg, Florida 33711.
George C. Chaconas, the exclusive agent for this transaction and the head of the National Harley-Davidson and Powersports Division for Performance Brokerage Services commented, "It was a pleasure helping the seller, Mr. Douglas, retire and helping the buyers, Tim and Haider, with expanding their business in Florida as young operators. We wish the seller and buyers great success and happiness."
About Performance Brokerage Services
Performance Brokerage Services, an auto dealership broker, specializes in professional intermediary services to buyers and sellers of automotive, Harley-Davidson and Powersports dealerships.
The company offers a different approach to the automotive, Harley-Davidson and Powersports industries by providing complimentary dealership assessments, no upfront fees, no reimbursement of costs and is paid a success fee only. Performance Brokerage Services gets paid only after the client gets paid.
With over 25 years of experience, the company utilizes an extensive network of industry related accountants, attorneys, hundreds of registered buyers and enjoys longstanding relationships with most of the auto manufacturers and the Harley-Davidson Motor Company. The intermediaries at Performance Brokerage Services have been involved in over 600 transactions. Pledging loyal and unwavering representation, confidentiality is vigilantly protected during the selling process and after the transaction closes.
With corporate offices in Irvine, California located at 7545 Irvine Center Drive, four satellite offices in Utah, Florida, Texas and New Jersey, and a dedicated Harley-Davidson and Powersports Division, Performance Brokerage Services provides its clients national exposure with local representation. For more information about the services offered by Performance Brokerage Services, visit https://performancebrokerageservices.com.