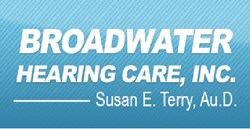 St. Petersburg, FL (PRWEB) May 01, 2013
Broadwater Hearing Care has added a weekly hearing healthcare blog to its website to help disseminate information about tinnitus, hearing loss and hearing aids in St. Petersburg FL. Hearing healthcare is a rapidly changing field with new advances in understanding hearing loss and hearing aid technologies published every month. To better connect consumers and patients with these new advances, the company will be publishing to the new blog on a weekly basis. In addition to sharing the latest research in terms that average people can understand, the new blog will include articles covering frequently asked questions and preventative care such as tips for first time hearing aid buyers. The blog's RSS feed will be syndicated to the Broadwater Hearing Care Facebook Page and Twitter account for broader distribution.
About Dr. Susan Terry, Au.D
Dr. Susan Terry, Au.D, owns Broadwater Hearing Care, Inc.. Dr. Terry received her Bachelor's and Master's Degree in Audiology from Florida State University and her Doctor of Audiology degree from the Arizona School of Health Sciences. She is a fellow of the Academy of Doctors of Audiology, the American Academy of Audiology and the Florida Academy of Audiology. She is a past officer and board member of the Audiology Foundation of America. In 2010 Dr. Terry was awarded the prestigious David P. Goldstein, Ph.D. Outstanding Audiologist Award. Part of the success of Dr. Terry's audiology practice in St. Petersburg comes from her recognition that each person's hearing loss is unique. Dr. Terry specializes in difficult to treat hearing loss and understands the special needs of her patients.
About Broadwater Hearing Care, Inc.
Broadwater Hearing Care, Inc. has provided hearing aids in St. Petersburg FL and its surrounding communities for several years. The company offers a full range of diagnostic and preventative hearing healthcare professional services, including hearing aid screening, evaluations, hearing aids sales and rehabilitative and preventative counseling. The staff is dedicated to keeping abreast of the latest improvements in technological advancements in the hearing industry and is committed to offering the most current options to our patients.
Contact:
Dr. Susan Terry
http://broadwaterhearingcare.com
Broadwater Hearing Care, Inc.
4107 5th Avenue North
St. Petersburg, FL 33713
(727) 565-0443