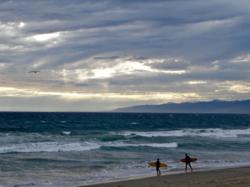 The Stormy Day series and the Foggy Day series instill a feeling of calm and awe. I look forward to living with these photos in my home. –Lesley Bracker
Venice Beach, CA (PRWEB) May 16, 2012
Stacey Moore captures the essence of Venice Beach through her gorgeous photography. Until May 31st, limited edition prints of her work are available to collectors via Kickstarter, through a special project called "30 Days. 30 Photos. 30 Dollars." These photographs depict scenes of Southern California's dynamic beach culture in its various moods.
Moore designed "30 Days. 30 Photos. 30 Dollars." as a collaborative endeavor, inviting the project's backers to help curate a collection of 30 images. People have until midnight on May 31st to sign up for the project on Kickstarter. The 30 day project begins on June 1st. For a pledge of $30, a backer can choose an 11" x 14" archival photographic print from 10 images currently available, or from 20 new images that will be added during the month of June.
The newly launched project has inspired positive comments from its backers. Actress Daphne Zuniga says, "These photos are stunning and I love the commentary about all the movement on the beach. I can't wait to put these on my wall." Local supporter, Laura Wagner, commented, "When I first felt the air and laid eyes on Venice beach, I thought, 'I can do anything here.' 15 years later I continue to soar. Thank you for capturing the magic of this very special place."
A long-time resident of the Pacific coast, Stacey Moore began exploring its terrain first through daily bicycle journeys, and then through photography. Her work delineates those journeys, revisiting them repeatedly to highlight the beach's variability, often in surprising ways. One project backer, Robert Allen, commented, "For the majority of us who aren't fortunate to live so close to the beaches of Southern California we have an idea of it all being Gidget fun in the sun. Your images really capture the endless variety truly there. I love the Stormy Day series as they're so unexpected."
As Moore notes, "There is so much movement at the beach; people are in motion, the sun is changing, the ocean is moving, the sky and clouds shift, birds are flying everywhere." Returning again and again to this ever-changing environment, Stacey Moore seizes actions and rhythms in time. Her photographs focus on particular moments in order to evoke the stillness and harmony she finds within this movement of life.
About Stacey Moore
Stacey Moore is an artist and designer living in Marina del Rey, CA. She is known best for her unique jewelry designs that have been carried by iconic retailers (Barneys New York, Fred Segal, Nordstrom) and museum stores (Guggenheim, SFMOMA). She is CEO and Creative Director of Stacey Moore Atelier, a Los Angeles based design house specializing in luxury goods.
For further information about "30 Days. 30 Photos. 30 Dollars."
Contact Stacey Moore by phone at (310) 692-4441 or on the web at staceymoore.com. Project details, more photos and a three minute video overview can be seen at http://staceymoore.com/kickstarter. You may view Stacey Moore's Photography Portfolio at photo.staceymoore.com and follow @TheStaceyMoore on Twitter.
###