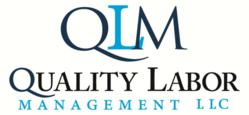 We understand that managing our risk is extremely important in order to ensure profitability, reliability and long-term relationships.
Sanford, FL (PRWEB) March 27, 2013
Quality Labor Management LLC (QLM), based in Sanford, Florida, has expanded their amenities available to clients and staff by offering Risk Management services. QLM is a high-end professional staffing agency servicing clients nationwide in the light industrial, hospitality, construction, logistics and transportation, stevedoring and professional services industries. In addition to enhancing team member safety and minimizing claims, the risk management division now offers training programs and consulting services to clients and team members.
"We understand that managing our risk is extremely important in order to ensure profitability, reliability and long-term relationships. We become a seamless extension of our clients; therefore their risk is our risk. However, we have programs in place to train the employees and clients to perform the job safely. Clients receive added value by gaining direct accessibility to our Risk Management team," says Mark Lang, President and CEO of QLM.
Leading the risk management team is National Safety Director and OSHA 500 authorized instructor, George Heath. Heath has over 20 years of experience in managing organization safety programs including claims management, accident investigations and safety training. Heath provides sound knowledge of local, state and federal regulations, protocols and procedures for the construction and logistics industries.
In addition to performing all safety inspections and ensuring compliance with OSHA, Heath offers consulting for any step in the project process. General training classes include OSHA 10 and 30-hour certifications, fall protection, personal protective equipment, hazard communication, fire protection, fork lift, machine guarding, blood borne pathogens, heat stress, workplace violence, proper hand and power tool usage and lock-out tag-out training. Site-specific services including performing a job-site analysis, drafting of safety manuals, training of employees and managers, development of safety committees for the project's operation, and preparation for OSHA audits. Heath and his team also manage OSHA record keeping, claims and accident investigations.
"We take a three-prong approach to safety at QLM. Keeping our employees safe is the responsibility of the branch, the field and corporate staff. From educating the team members on our SPQ philosophy, performing the actual training to managing the legal side, each prong plays a critical role," says Heath.
QLM is headquartered in Sanford, Florida and has offices throughout the Southern United States. QLM is a unique skilled-staffing provider with extraordinary talent specializing in workforce management for a wide array of industries. QLM provides temporary and permanent staffing services to client companies of any size. The company offers over 100 years of combined experience and top industry leaders for staffing and recruiting.
Clients have peace of mind knowing that QLM removes the human resource burden allowing them to focus on the productivity and success of their business. Clients also rest assured that the recruiters will walk the extra mile to select the right person for the job. Job candidates are recruited through professional tools and networking opportunities. QLM places an emphasis on skills testing to ensure job applicants meet the criteria of client companies looking to hire. QLM focuses on delivering quality not quantity, to any workforce team.
For more information on QLM and a complete list of risk management services, call Jana Bauer at 1-855-756-9675 or email at JBauer(at)myqlm(dot)com for employment opportunities and staffing solutions. Job seekers can tour job openings and employers can review how QLM can help by visiting http://www.myqlm.com.