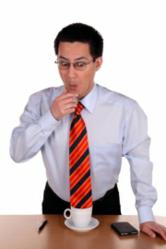 ...we think a tie should make a statement about the man, not a stain. So we've created the ultimate guide to stain removal...
San Francisco, CA (PRWEB) November 24, 2011
Thanksgiving weekend starts tomorrow and that means one thing: food, food and more food! And with food comes stains. On Turkey Day, Americans across the country celebrate by dressing up in their finest garb for a family feast, only to have their clothes destroyed by careless slurping or too-fast gobbling. Mom's gravy, Dad's spinach dip, Aunt Sylvia's cranberry sauce, cousin Nancy's butternut squash soup, cousin Martha's special stuffing and that bottle of Beaujolais Nouveau Uncle Jack brought—all of them can delight the tongue, but devastate the threads. Luckily, this year Bows-n-Ties.com is offering Thanksgiving feasters something to be especially thankful for: a full guide for how to remove all kinds of stains from silk ties and garments.
Available at Bows-n-Ties.com's fashion blog with the title "How to Remove Gravy Stains From a Tie", tie aficionados will learn tricks like how to use a sponge to remove cranberry sauce stains, corn starch to remove gravy and table salt to get rid of nasty red wine stains.
Instead of just pretending that new red blotch on a silk tie is an extra polka dot, one can now consult Bows-n-Ties.com's handy guide to find the fastest and best way to erase the stain once and for all.
"If there's one thing that's been a consistent tradition since the first Thanksgiving in Plymouth to the present day, it's that men will somehow manage to soil their clothes," said Bows-N-Ties founder Hendirk Pohl. "Well, we think a tie should make a statement about the man, not a stain. So we've created the ultimate guide to stain removal and made it available to everybody on our site for absolutely free." The online retailer carries a wide selection of over 2,000 quality neckties, bow ties (as well as men's accessories like cuff links and handkerchiefs) sorted into 18 different color shades to match every dish on the Thanksgiving table.
Thanksgiving, which was originally celebrated by the Pilgrims at the end of harvest cycles to give thanks for a good harvest, is now the American holiday most closely associated with traditions like watching football, scoring Black Friday shopping deals and Thanksgiving Day parades. While everybody in the family has a favorite tradition, there's one custom absolutely everybody agrees on: indulging in the Thanksgiving banquet. But, this Turkey Day, the best way to keep the many flavors of Thanksgiving--mashed potatoes, pumpkin pie, corn on the cob, green bean casserole and cornbread—on the taste buds and off the silk ties is with help from Bows-n-Ties.com.
###