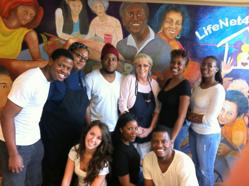 StampLabel raising money for non-profit organization, LifeNet4Familes
Miami, Florida (PRWEB) March 19, 2013
StampLabel, the lifestyle custom clothing line, is currently working toward its goal of raising $2,500 for LifeNetFamilies. StampLabel will continue to give 10% of the profit from every purchase made on its website (StampLabel.com) in the month of March to LifeNet4Families, a non-profit organization that supports families who are suffering from hunger. Co-Chief Difference Maker, Jeremy Mathis stated, "We have already raised $400 and believe that we will achieve our goal with the help of Difference Makers around the world."
StampLabel's goal to raise $2,500 in the month of March will help LifeNet4Families to feed 300 families in need for an entire month. "LifeNet4 Families is a charity that we at StampLabel are very close with. We built a strong connection with them and host our monthly soup kitchen at their facility. We take our staff, volunteers, and supporters of our movement to help us make a difference, give back, and to have a life changing experience. LifeNet4Families has been making a difference in their local community for over 25 years. This donation of $2,500 will help them to continue their mission and feed the homeless" stated Jeremy. At the monthly soup kitchens, StampLabel has consistently assisted LifeNet4Families in feeding over 300 people every visit.
On March 22, 2013, StampLabel's Co-Chief Difference Makers Joshua Mathis and Jeremy Mathis, along with other Difference Makers will visit LifeNet4Families to give back to those in need. "These visits each month to LifeNet4Families are life changing and impact everyone involved. Every Difference Maker that joins us does not leave the same way they came, they have a different outlook on life. These monthly visits make you thankful and appreciative for everything you have," stated Co-Chief Difference Maker Joshua Mathis.
Through its website, StampLabel.com, StampLabel gives customers the ability to fully express themselves through fashion while simultaneously making a difference and helping people. Customers can create their own designs using the company's Design Studio or alter any of the over 500 existing designs on the company's website. The company believes that while it is making a difference it is also helping customers to set trends.
About StampLabel
StampLabel is a Christian oriented, lifestyle custom clothing line. The company was founded by twin brothers who want to change the world through giving and helping others. StampLabel has designs that are funny, inspiring, creative, expressive, and user developed. In addition, StampLabel gives its customers the ability to fully customize apparel. The company allows customers to brand all of the custom apparel they create with its distinctive trademarked logo. StampLabel accomplishes its goal of being a Difference Maker and improving society by giving away 10 percent of the profit from every purchase to charity.
StampLabel's mission is to make a difference in communities everywhere and enrich the life of every individual. The company helps as many people as it can, and through its efforts they hope to show everyone the importance of giving so that people will incorporate giving into their everyday lives.
About LifeNet4Families
LifeNet4Families, Cooperative Feeding Program is a private, 501 C3, federally recognized nonprofit agency. The organization has been serving the hungry and homeless of Broward County for 27 years. The organization provides 1.3 million meals a year with the help of Difference Makers.
LifeNet4Families' mission is to be a seamless system of care in Broward County, to reduce the pain and suffering of individuals and families in poverty by providing necessary food, ancillary services and referrals. The organization feeds more than 200 individuals per day, and hopes to improve the lives of all those involved. To learn more about LifeNet4Families, visit http://www.lifenet4families.org/.
Contact:
Jeremy Mathis
(786) 277-4689
Jeremym(at)StampLabel(dot)com