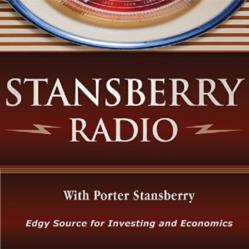 Uranium seems to me a like a two- or three-year no brainer.
Baltimore, MD (PRWEB) February 14, 2013
Stansberry Radio with Porter Stansberry hosted legendary resource investor Rick Rule last week to discuss a rare situation taking place in a select group of precious-metal stocks. "It really is... a once-in-two-decade opportunity" said Rule. "Now, in particular, we are in a situation which occurs very rarely, which is where certain precious metal stocks are if not cheap, at least reasonably priced."
Rule went on to say, "The last time that I saw as many precious metals – particularly precious metals development companies – as cheap, relative to the gold price, as they are today was in 1992."
When asked about investing in uranium specifically, Rule went on to make the bold statement, "Uranium seems to me a like a two- or three-year no brainer."
The interview was hosted by Stansberry & Associates expert analysts, Dan Ferris who writes the 12% Letter and Extreme Value newsletters, published monthly by Stansberry & Associates Investment Research. Listen to the entire conversation here.
The Stansberry Radio Network is becoming a required stop for financial experts, economists, politicians and the media. The show has been host to a wide variety of prominent names, including Lauren Lyster, Jeff Macke and Alex Jones. Other guests have included Mike "Mish" Shedlock, MSNBC host Chris Hayes, former U.S. Senator Byron Dorgan, publisher Steve Forbes, and renowned investors Jim Rogers and Marc Faber.
Stansberry Radio Network segments can be accessed at http://www.stansberryradio.com.
Stansberry Radio with Porter Stansberry is a top three investing podcast on iTunes, having more than 80,000 downloads and listens per month. New episodes are released every Thursday afternoon.
About Rick Rule
Rick Rule, founder of Global Resource Investments, Inc., now a member of the Sprott Group of companies has been active in natural resource investing for thirty five years. He is a well-recognized expert in mining, energy, water, forest products, infrastructure and agriculture. A popular public speaker, Mr. Rule is a featured presenter at investment and industry forums and conferences around the world.
Sprott Global Resource Investments provides investment advice and management, as well as brokerage services to high net worth individuals, institutional investors and corporate entities worldwide.
Mr. Rule is particularly active in private placement markets, having originated and participated in hundreds of debt and equity transactions with private, pre-public and public companies. As general partner in the Exploration Capital Partner series of private placement partnerships, Mr. Rule has an exemplary track record of performance.