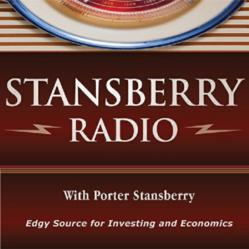 If you do these things for 20 years, you will have no problem building wealth.
-Porter Stansberry
Baltimore,MD (PRWEB) February 27, 2013
In a candid disclosure last week, host of Stansberry Radio, Porter Stansberry gave listeners detailed advice on his secret to becoming wealthy. The conversation, spawned by co-host, Aaron Brabham began with a discussion about what Stansberry calls "capital efficiency" in business.
Stansberry says capital-efficient companies generate huge volumes of cash without having to spend much capital maintaining their businesses year after year. As a result, the companies are able to return a significant portion of their profits to shareholders. Capital-efficient companies tend to be ones with enduring iconic consumer brands.
Legendary investor, Warren Buffet often refers to this concept as well, calling it "economic goodwill". Stansberry has written several articles on this subject. You can find one of the essays here: "The Best Investment Advice You'll Never Take."
On his radio program, Stansberry gave detailed instructions to listeners about the steps to take to become wealthy… including how much to save from each paycheck, where to invest money, and what to buy with excess savings at the end of the year. "If you do these things for 20 years, you will have no problem building wealth," said Stansberry. Listen to the broadcast here. The program also featured guest, Joe Nagel who gave detail on how to protect assets internationally.
The Stansberry Radio Network is becoming a required stop for financial experts, economists, politicians and the media. The show has been host to a wide variety of prominent names, including Lauren Lyster, Jeff Macke and Alex Jones. Other guests have included Mike "Mish" Shedlock, MSNBC host Chris Hayes, former U.S. Senator Byron Dorgan, publisher Steve Forbes, and renowned investors Jim Rogers and Marc Faber.
Stansberry Radio Network segments can be accessed at http://www.stansberryradio.com.
Stansberry Radio with Porter Stansberry is a top three investing podcast on iTunes, having more than 80,000 downloads and listens per month. New episodes are released every Thursday afternoon.