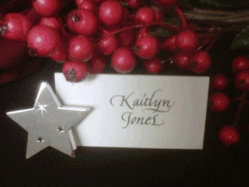 They're so simple yet so magical. They make everyone feel good – like true shining stars, you might say.
San Mateo, CA (PRWEB) March 04, 2013
Glimmers Inc., a star party light and star decoration company based out of San Mateo, California, continues to grow its popular line of Star Lites LED lighting products as more event planners are using these party lights during their events. These sparkling stars have been a huge hit and kept Glimmers ahead of the curve when it comes to light up star decorations.
Recently, event planners ordered thousands of Glimmers' two unique products, the 9-inch Clip on Star with six LED lights and the dimensional 2-inch star with three sparkling LED lights.
The Woodland Park Zoo in Seattle ordered 23,000 of the 2-inch dimensional star for its special Zoo Lights Festival held in December. The Zoo ordered stars in 3 unique LED color combinations: all white, blue and white, and red, green, and blue.The star lights can also be made into necklaces and are extremely versatile.
Since they are waterproof and FDA approved, the can be dropped in drinks, scattered on tables for a creative touch, used in floral arrangements or used with round toothpicks to decorate cakes or a special dessert.
Quinnipiac University in Connecticut has also featured Glimmers classic Clip On Stars as well as the 9-inch star at their Center for Excellence dinner. They attach the Clip On Stars to mugs at everyone's place setting, and when people discover they can wear them the fun really begins. Then they put Glimmers' 9-inch star with six twinkling white lights in all their centerpieces. These forever-lasting 9-inch stars light up the life of any party or event. The university has ordered these products the past four years.
Quinnipiac University Special Event Director, Karla Natale, had nothing but glowing remarks for the Star Lite products she uses at the "Center for Excellence" dinner.
"We love the stars," she said. "They're so simple yet so magical. They make everyone feel good – like true shining stars, you might say."
For more information on Glimmers' Star Lite line of products, visit their website, http://www.glimmersinc.com.
About Glimmers Inc: Glimmers is an LED party company based out of California. Founded in 1990 by Jill Flynn with the Christmas Tree Pin, the company has turned from regular lighting to LED lights, which last much longer and are much brighter. Pins and party lights have been featured at events at the White House, the Leukemia Society, zoos, and other events throughout the country. For more information on Glimmers' products, visit http://www.glimmersinc.com.