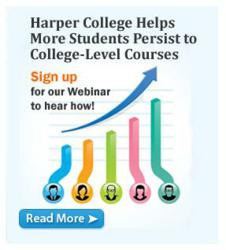 When [our faculty] looked at the Starfish system, they felt they could easily follow through and provide the information that was needed so that our counselors could reach out to students in a timely way.
Arlington, VA (PRWEB) March 20, 2013
Starfish Retention Solutions, Inc., a leading provider of student success systems, today announced that Harper College has adopted the Starfish® system to support its efforts to increase the number of students persisting through developmental education programs in order to begin studying college-level course materials.
Harper College is a two-year community college in Illinois serving nearly 35,000 students annually. Named after William Rainey Harper, who helped start the community college movement more than 100 years ago, Harper has embarked on a five-year strategic plan with a singular goal of increasing the number of students who graduate with a degree or workforce certificate. A large motivation behind the effort is President Obama's challenge to community colleges to produce 5 million more degrees and certificates by the year 2020. By Harper's math, the institution will need to deliver an additional 10,604 degrees and certificates, an average of 1,000 annually, in order to meet the president's goal (see Accountability at Harper College).
The strategic plan identified a number of focus areas including improving academic achievement, narrowing achievement gaps, and increasing completion rates. As an Achieving the Dream institution since 2009, Harper analyzed internal data to develop strategies that would help move the completion needle, specifically within the college's developmental education program.
"We were losing students in developmental courses before they were ever ready for college-level work. Those we could get to college ready were succeeding at rates comparable to those who started out there," said Sheryl Otto, assistant provost and dean of student development for the college. "It became clear that we needed to improve the way we helped these students early in their time with us so they would be able to continue toward completing their degrees or certificates."
According to the National Center for Education Statistics, fewer than 25 percent of students who begin at a community college graduate with an associate degree within three years. The rate is even lower for those who start out requiring developmental courses (e.g., math, reading, and English). Industry averages indicate that about 60 percent of incoming students are referred to at least one developmental course.
In 2011, Harper launched what it calls Project Success in order to help first-year students who are recent high school graduates and are placed and enrolled in two or more developmental courses. In the first year, approximately 800 students were identified to meet the criteria, 355 of whom were placed in a pilot program for comprehensive tracking. The program was also intended to increase collaboration among faculty, counselors, and support services.
To facilitate the tracking of the students in the pilot program, Harper adopted Starfish EARLY ALERT™ to enable faculty to flag students who were falling behind, route those concerns to the counselors assigned to the students, and keep track of the various interventions that take place throughout the term. The Starfish system was selected because of its usability, ease of implementation, and integration capabilities with other campus IT systems including the Banner by Ellucian student information system.
"In our internal reviews of the various early alert systems, our faculty wanted to know how easy the system would be for them to report a concern that they have with a student's performance," said Kathi Nevels, student development professor at the college. "When they looked at the Starfish system, they felt they could easily follow through and provide the information that was needed so that our counselors could reach out to students in a timely way."
In the first year of the program (fall 2011), 69 percent of faculty completed flag surveys in the Starfish system to report their concerns, resulting in 56 percent of the pilot students being flagged. Of these students, 77 percent met with a counselor to address the concerns. As a result, pilot students persisted from Fall 2011 to Spring 2012 at a rate nearly 3 percent higher than students who were not in the pilot program (80 percent compared to 77.2 percent). Moreover, pilot students who were flagged for concern and met with a counselor persisted at a significantly higher rate than those who were flagged and did not meet with a counselor (82.1 percent compared to 47.7 percent).
Accessible with a single login from an institution's student information system, portal system, or learning management system (e.g., Blackboard, WebCT, ANGEL, Moodle, Desire2Learn, Canvas), Starfish is a collection of two software systems. Starfish EARLY ALERT is an early warning and student tracking system that makes it possible for instructors, advisors, and academic staff to identify at-risk students in real time. The system includes advanced early warning analytics agents that process student success information, including instructor perception data, student self-assessment data, learning management system data, and student information system data. Starfish CONNECT™, an education support networking and case management system, helps students access a personalized contact list of instructors, advisors, tutors, and counselors who are dedicated to helping them succeed. The system also provides informative academic plans to help keep students on track. Together, the systems generate valuable performance and resource utilization data for the institution, which helps optimize future service offerings.
"Starfish Retention Solutions is honored to be working with Harper College to support its Project Success program and its initiative to increase the number of degrees and certificates earned," said David Yaskin, CEO of Starfish. "The methodical approach Harper College has taken to identify its focus areas, implement technology to support its efforts, and measure results in order to foster continuous improvement is inspiring to other community colleges, many of which are facing similar challenges."
Webinar Invitation. The team leading the Project Success program at Harper College will be hosting a complimentary webinar presentation on Wednesday, May 8 at 2 p.m. ET (1 p.m. CT). The presentation will include an overview of the program, including lessons learned and best practices that can be used by other institutions that are working to improve developmental education outcomes. To register, click here https://www3.gotomeeting.com/register/773918022.
About Starfish Retention Solutions
Starfish Retention Solutions is a leading provider of student success systems. The company offers a collection of software solutions that harness the power of the campus community in order to engage, motivate, and graduate more students—securing valuable tuition revenue through student retention. Specifically, the solutions help institutions identify at-risk students in real time, based on their daily coursework performance and faculty concerns, and then connect them to the resources designed to help (e.g., advising or tutoring), all while assessing which services and interventions are working. For more information, please call 703.260.1186 or visit http://www.starfishsolutions.com.