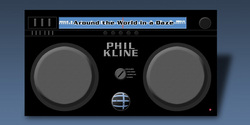 Magic was happening as you sat there. Here was a real original.
Boulder, CO (PRWEB) August 3, 2009
The New York Times, Stereophile, New York Magazine, WNYC, and others have recently praised Phil Kline's Around the World in a Daze, a surround sound DVD released by Starkland.
In his New York Times review, critic Allan Kozinn notes, "Mr. Kline, the electronic experimenter who deploys fleets of boomboxes to achieve his preferred textures, is hard at work." He writes "the best pieces" include Pennies from Heaven, "an 18-minute tapestry of tactile, bell-like timbres and descending scales," along with The Maryland Sample, "an appealingly harmonized vocal setting," and Svarga Yatra, a "meditative string quartet score, played with an ethereal, plush tone by Ethel, that catches the ear."
Stereophile's Kal Rubinson also enthusiastically reviews Daze. The "ear-opening adventures" range "widely from ambient recordings that are surprisingly musical, to complex constructions that emerge as lyrical." Rubinson adds the Extras DVD contains "a fascinating interview with Kline."
In his New York Magazine article, Justin Davidson finds that Kline's surround sound piece is "beguiling in old-fashioned stereo," and concludes that Daze is "a set of sensational études."
In addition, Daze has been selected as a "Pick of the Week" on the Soundcheck program at WNYC, the largest public radio station in the United States. They note that Daze is "probably the first major piece to be written specifically for surround sound of a home theater experience."
Several other sources have also applauded Daze. The international newsletter Vital Weekly offers congratulations to Starkland for releasing "this extraordinary and well-documented release."
At the influential Sequenza21, critic Christian Carey writes that Daze "fascinates, engages, and, often, moves." He concludes, "Kline's pieces transport the hearer from their listening space to imaginary vistas that envelope, even overwhelm."
Sequenza21 has previously praised Daze and its distinctive customized packaging. "Our always adventuresome friends at Starkland have outdone themselves this time." They add, "Daze is an amazing example of cool presentation."
Lucid Culture begins its review by describing Kline as "one of this era's most fearlessly relevant composers." They note Daze offers "a mix of compositions which run the gamut from challenging to confrontational to playfully fun." They conclude, "New music fans will salivate over this."
Around the World in a Daze is a 65-minute studio composition commissioned by Starkland specifically for high-resolution surround sound and to premiere on DVD. Offered in a custom-designed package, this double-DVD release also features an Extras DVD, highlighted by a 34-minute interview with Kline. The two DVDs contain a total content of 110 minutes.
Kline is recognized as "one of America's most important compositional voices" (Philadelphia Inquirer). Reviewing Kline in concert, The New York Times wrote, "Magic was happening as you sat there. Here was a real original."
This formidable project is the brainchild of Starkland founder and one-man-army Tom Steenland. He states, "I love surround sound and think it's an exhilarating format for contemporary composers," adding, "Phil is a wonderful composer, and much of his music is inherently spatial. The idea of commissioning a major work from Phil to premiere on a surround sound recording was compelling and irresistible."
The main DVD offers Daze in several formats for various playback setups: standard-DVD Dolby Digital 5.1 Surround; higher quality DTS 5.1; highest-quality uncompressed DVD-Audio; and PCM stereo. Playback of the ten-movement Daze composition is accompanied by over 80 images shot by Kline.
This DVD emerges as a followup to Starkland's Immersion DVD-Audio, for which this adventurous Colorado-based label commissioned a wide-ranging group of cutting-edge new-music composers to create surround sound works. Once a #1 Best-Seller at Amazon, Immersion is now recognized as a groundbreaking recording that let listeners experience new music in high-resolution surround sound for the first time.
With this new Phil Kline release, Starkland has now commissioned over two hours of high-resolution surround-sound music from thirteen prominent new-music composers, a commitment likely unequaled by any other label.
About Phil Kline:
From vast boombox symphonies to chamber music and songs cycles, Phil Kline's work has been hailed for its originality and beauty. His compositions have been performed in rock clubs, art galleries, and major concert halls throughout the world.
Kline's Zippo Songs was one of the most widely praised new music CDs of 2004. In addition to receiving news coverage by CNN, NPR, The London Guardian, and many others, the CD was named "Best of the Year" by The New York Times, Newsday, and Gramophone.
His signature boombox composition Unsilent Night debuted on the sidewalks of Greenwich Village in 1992 and is today a cult holiday tradition throughout the world. Jon Pareles wrote in The New York Times: "It immerses a listener in suspended wonderment, as if time itself had paused within a string of jingling sleigh bells."
A figure in the downtown New York rock scene in the 1980s, Kline founded the band the Del-Byzanteens with filmmaker Jim Jarmusch and painter James Nares, collaborated with photographer Nan Goldin on the soundtrack to her Ballad of Sexual Dependency, and toured the world as a veteran of Glenn Branca's legendary guitar ensemble.
About Daze Participants:
Bringing the string quartet into the 21st century, Ethel is part chamber ensemble and part rock group, playing avant-garde classical music with healthy doses of jazz and rock-influenced material, electronics, and improvisation. The Juilliard-trained, all-star foursome has collaborated with some of today's most exciting artists. They have recorded with pop musicians Joe Jackson, Todd Rundgren, and Rickie Lee Jones, experimental artists Dick Connette and Blue Gene Tyranny, and on film scores by Don Byron and Benny Wallace.
Todd Reynolds is one of today's preeminent new music fiddlers. He has appeared and/or recorded with such artists as Anthony Braxton, John Cale, Yo-Yo Ma, Graham Nash, Steve Reich, Marcus Roberts, and Todd Rundgren. Reynolds has commissioned and premiered countless numbers of new works by such composers as John King, Michael Gordon, Neil Rolnick, Julia Wolfe, David Lang, Evan Ziporyn, and Randall Wolff.
Thomas Steenland owns the alternative classical label Starkland. He has produced premiere recordings of works from such contemporary composers as John Luther Adams, Tod Dockstader, Paul Dresher, Aaron Jay Kernis, Guy Klucevsek, Merzbow, Meredith Monk, Vincent Persichetti, George Rochberg, Morton Subotnick, Somei Satoh, Iannis Xenakis, Pamela Z, and John Zorn. Steenland's releases have been praised for their music content, sound quality, graphic design, and informative liner notes. The influential Sequenza21 website writes, "Props to our amigo Tom Steenland who has been producing great avant-garde recordings on his Starkland label from Boulder for many years now."
About Starkland:
The Starkland label releases compelling, engaging recordings of new, experimental, and alternative classical music.
Starkland's previous recordings have received over 160 favorable reviews, including those in The New York Times, Washington Post, Los Angeles Times, Billboard, Stereophile, Sound & Vision, Wired, Stereo Review, Village Voice, Alternative Press, Fanfare, England's The Wire, Canada's Musicworks, France's Revue & Corrigée Germany's Zillo, Japan's inTune, Italy's Rumore, and Spain's Margen. The label's releases have been featured on such national radio programs as NPR's All Things Considered and Weekend Edition.
Starkland's catalog includes Charles Amirkhanian, Phillip Bimstein, Jay Cloidt, Tod Dockstader, Paul Dolden, Paul Dresher, William Duckworth, Robert Een, Fred Frith, Ellen Fullman, Lars Hollmer, Aaron Jay Kernis, Jerome Kitzke, Roger Kleier, Guy Klucevsek, Lukas Ligeti, Ingram Marshall, Merzbow, Meredith Monk, Bruce Odland, Pauline Oliveros, Maggi Payne, Somei Satoh, Carl Stone, Lois V Vierk, Pamela Z, and John Zorn. The Kronos Quartet, Ethel Quartet Turtle Island String Quartet, Paul Dresher Ensemble, Modern Mandolin Quartet, and Todd Reynolds are some of the musicians on Starkland's recordings.
# # #