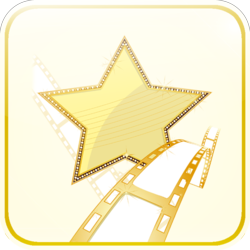 Users are often surprised how close they are to movie set locations used to film, even in their hometowns.
San Francisco, CA (PRWEB) January 31, 2012
Following the release of Star Struck on the Android Marketplace, the App Store for the iPod touch, iPhone, and iPad, 78x36 Productions just announced Star Struck - Hollywood Celebrity Tour USA is to be released in Mandarin on the App Store for iPhone, iPod touch, and the iPad.
Now, Mandarin speakers will be able to enjoy 78x36 Productions celebrity tour guide app, Star Struck - Hollywood Celebrity Tour USA. Highlighted in the app, are locations in the United States that have been made famous by movies filmed at these locations. Users can visit movie locations in cities including Beverly Hills, Malibu, Santa Barbara, Chicago, Miami, San Francisco, and other destinations in Texas and Oregon, to name a few. Just a taste of the app's Most Popular movie locations are Twilight's filming locations in Oregon and LA. Or users can enjoy a Sideways' tour through the Santa Ynez Valley, just north of Santa Barbara, in California spotlighting winery stops the characters in the movie made. Users can feel just like their favorite Hollywood star.
Additionally, Hot Spots is a guide to many favorite establishments in the same cities as the movie locations. Users can immediately locate new and noteworthy Hollywood Celebrity hangouts and upcoming popular new locales celebrities love to visit. Included in the app, is a Rodeo Drive Shopping locator, a guide to the most famous stores in Beverly Hills. A traditional guide to movie studio locations is also easily accessible through the app.
Star Struck mobile app promises users a wonderful informative tour guide and resource for places celebrities have been spotted dining or hanging out at. Star Struck - Hollywood Celebrity Tour USA in Mandarin is set to be released in the next weeks pending Apple's App Store approval.
78x36 Productions is an independent developer of applications targeting platforms on iPhone, iPod touch, iPad, and Android. Specializing in gaming, reference, lifestyle, entertainment, and travel mobile device applications, our popular titles include- casual gaming RPG imperial millennium: MEDINA - WARNING Highly Addictive, tennis reference 10S REF, and STAR STRUCK Hollywood Celebrity Tour USA including Celebrity Hot Spots.
###