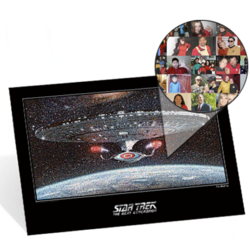 (PRWEB) September 21, 2012
Twenty-five years ago a new Starship Enterprise took flight into the galaxy, transporting Captain Picard and his crew to lands where no one has gone before. To celebrate the anniversary of this beloved series, Fan Mosaics is creating the official Star Trek: The Next Generation Fan Mosaic and commemorative print.
"Star Trek: The Next Generation fans are dedicated, to say the least," says Rob Hixenbaugh, Fan Mosaics' director of fan & brand development. "That's why we're thrilled to invite them to join the milestone anniversary photo mosaic. They get to make TNG history."
Fans can upload their photo at no cost for inclusion in the Star Trek: The Next Generation Fan Mosaic at http://www.FanMosaics.com/StarTrek25 through October 28, 2012. The picture of the Enterprise will be reconstructed entirely from these photos. Fans will also have the opportunity to purchase the high-quality 24" x 36" print, which is designed to be framed and displayed like artwork as a lasting tribute to the Enterprise and its crew. Star Trek: The Next Generation Fan Mosaic is officially licensed by CBS Consumer Products.
TM & (C) 2012 CBS Studios Inc. STAR TREK and related marks are trademarks of CBS Studios Inc. All Rights Reserved.
About Fan Mosaics
Northfield, Ohio-based Fan Mosaics, LLC, is the bridge that connects fans and stars. The company's officially licensed celebrity photo mosaics—composed entirely of fan-submitted images—are a unique and lasting outlet for fans' enthusiasm and loyalty. Entertainers in all industries choose Fan Mosaics to thank fans for their dedication, and charities partner with Fan Mosaics to raise funds for their worthwhile causes. Visit http://www.fanmosaics.com to view completed and current projects and to learn more about the Fan Mosaics creation process.