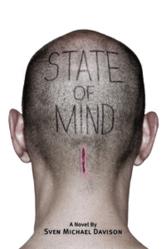 A bloody and mind-blowing tour de force, both literally and figuratively.
Los Angeles, CA (Vocus/PRWEB) March 30, 2011
"State of Mind," a new book by author Sven Michael Davison imagines a time where a P-Chip, as he has named it, has the capabilities to change who people are. The science Davison portrays in his cyber-fiction novel is extremely plausible and explores the moral and sociological dilemmas of a future predicted by futurist Ray Kurzweil and the Singularitarians that follow him.
Set in Los Angeles in 2030, "State of Mind" examines the loss of freedom in a city that has been the setting for some classic post-industrial dystopias. Jake Travissi, the unlikely hero of the story, has been banned from the police force but wins a rare second chance. The price: volunteer to have a P-chip implanted in his brain and join Homeland Security's experimental Enhanced Unit.
Davison wrestles with many of the most compelling themes of cyberpunk genre today: a near future world where the daily events of life are played out in a space where the boundaries between the virtual world and the real world have dissolved.
Sven has worked as a trailer copywriter at Paramount Pictures and a staff screenwriter for several other smaller production companies. He was head of 20th Century Fox's Worldwide Home Entertainment Content and Production Department for ten years. When not writing he consults for entertainment technology companies. This is his second novel.
PRAISE FOR "STATE OF MIND"
With "State of Mind," Mr. Davison has written a bloody and mind-blowing tour de force, both literally and figuratively. It is both entertaining and thought provoking but definitely not for the faint of heart. -- Steve Moore, physicist and author of "The Midas Bomb"
An intelligent, thought provoking, cinematic post-cyberpunk thriller and a great read. -- Antony Jones, sfbook.com
Brutally realistic, chillingly plausible, this novel manages to be both thought evoking and highly entertaining. A must read! -- Black Lagoon reviews, blacklagoonreviews.blogspot.com
"State of Mind" is an action-filled, engrossing journey across the tortuous emotional landscape of mind control, where nothing is quite what it seems for everyone involved. A must-read for Pin Heads and God Heads alike and for the casual observers." -- Leonid Korogodski, author of "Pink Noise"
For more information about Sven and his book, visit http://www.stateofmindbook.com.
# # #