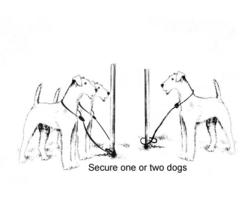 Temporarily Secure your dog with "Peace of Mind"
(PRWEB) March 20, 2013
StayBoy Lock is launching a Locking Leash Collar that will temporarily secure dogs. This is National Pet Theft Awareness Week, and most Americans are unaware that dog theft is an epidemic here in the US. AKC statistics indicate dog thefts were up 32% in 2011 and 70% in 2012. According to the National Registry of Dogs, 1 out of 5 dogs will be lost or stolen this year. The black market for dogs is an organized multi-million dollar industry. This is heart breaking for the children and pet owners.
Keeping pets safe is so important to their families that Jim Allen invented the StayBoy Lock. Jim saw a need to go from the dark ages of owning a pet, to including pets in their owners' daily activities. Pet owners should be able to ease their fears of pet-nappers and enjoy their time with their dogs. The StayBoy Lock is perfect for responsible pet owners to secure their pets briefly while they go about their lives. Now, dogs no longer have to stay at home all the time.
StayBoy Lock is made with a lightweight proven durable combination lock that weighs only three ounces. The cut resistant cable is vinyl coated, with nylon fabric around the collar and the handle for comfort. It is one size fits all and comfortable for very small dogs, up to the largest breeds. StayBoy Lock will hold up to 400 lbs.
American Kennel Club's (AKC) West Coast Regional Manager, Michael Cosenza said, "This is one of the better ideas AKC has seen in five years."
The AKC will be featuring StayBoy Lock in their May Spring Gear issue of AKC Family Dog Magazine.
Many dog owners have wanted to pop in and do a quick errand, but were afraid to leave their dog unattended. There are many horror stories about dogs being taken out of their owner's vehicles because the windows have to be left down. Many people like to take your dog on vacation with them, or even just to the Vet without worrying. The StayBoy Lock, is the perfect solution for these situations.
To make their product a reality available to every pet owner, StayBoy Lock has launched a crowdfunding campaign to raise funds. Those interested in contributing can visit the StayBoy Lock IndieGoGo crowdfunding campaign. On this page, visitors can order their own StayBoy Lock leash, or donate to make sure that StayBoy Lock can meet their manufacturing needs.
About StayBoy Lock: Jim Allen, his son Alec, and dog Roxy went to Yellow Stone on vacation. Each day, Jim went hiking with Roxie, but took her back to the camp site for his family to watch her before he could do errands. One day, he wanted to take a quick shower with Roxie tied right next to the shower. When Jim came out, kids were petting her and he was so worried anyone could have taken her. He mentioned this to a friend, who said his dog was taken exactly that way! Jim started looking for a solution high and low – and there was none. So, a year and a half ago, Jim hired a lock consultant, Tim F., to work on the design. Tim and Bob V., his patent attorney, have been raving fans of the StayBoy Lock. Visit the StayBoy Lock Website for more details: http://www.stayboylock.com/