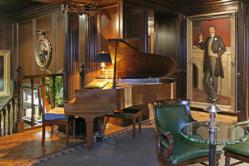 San Francisco, CA (PRWEB) October 20, 2011
The Bull Market Cocktail menu now includes the Peachy Keen—equal parts Amaretto and Peach Schnapps mixed with orange juice and served over ice; the Hoopla—a brandy, Cointreau, Lillet and lemon juice mix that is chilled and served up; and the Bubbles Up—a drink made of Mumm Sparkling Brut and Crème de Cassis and with a Lemon Twist.
The Bear Market Cocktail menu includes the Dark and Stormy—a drink made of Gosling's Black Seal Rum, mixed with Fever-Tree Premium Ginger Beer and served over ice; the Tank—a Jack Daniels and Tanqueray drink chilled and served up; and the Teed Off—brandy and Peppermint Schnapps mixed with orange juice and pineapple juice and served over ice.
All cocktails are $12 or less. Every day from 4 p.m. to 12 a.m., customers can enjoy the delicious and affordable drinks next to the bar's warm fireplace while listening to live piano music in the lounge.
To contact Huntington Hotel's Big 4 Restaurant, call 415-771-1140 or visit http://www.big4restaurant.com.
About the Huntington Hotel
A San Francisco steak restaurant in The Huntington Hotel is reflective of the vibrant and diverse San Francisco spirit. The San Francisco luxury hotel creates an elegant ambience for the savvy traveler, graciously blending traditional décor with the most sought-after amenities, providing a genuine luxury that feels uniquely borne of The Huntington Hotel. Honoring the past and poised for the future, the Huntington Hotel is committed, caring and eager to warmly welcome and completely satisfy business and leisure travelers from all over the world. As one of the best hotels in the city, The Huntington Hotel in San Francisco includes a seafood restaurant as well as a steak restaurant and a luxury day spa.
# # #