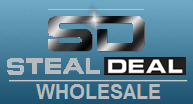 Los Angeles, CA (PRWEB) December 13, 2012
Clothing is a staple that even in a down economy people will continue to purchase. While some styles may face more challenges than others, the hip hop and street wear trend continues to see upward momentum in the apparel industry. For this reason, Ebby and Michael Davood, founders of Steal Deal, a wholesale clothing store, have focused their business on providing this trend to entrepreneurs who aspire to make it in the apparel business. To help inform these entrepreneurs of their options and give the help they need to succeed, Steal Deal has partnered with LAD Solutions, a well-respected Los Angeles based online marketing firm, to help handle the promotions.
Starting any business is difficult, but to be competitive in a dense market, such as the apparel industry, entrepreneurs must keep their costs down and focus their boutiques and shops on a niche that has promise to remain strong even during a challenging economic times. For Steal Deal, the market has shown that the hip hop and street wear lines of clothing hold the most promise which is why they have focused their wholesale apparel store on these brands and offerings.
To help entrepreneurs grow their business quickly, Steal Deal provides hip hop and street wear brands at wholesale prices. Entrepreneurs or individuals can purchase these styles in small amounts to help stock their shelves slowly without overinvesting in styles that may not be as popular in their area. This has given entrepreneurs the opportunity to test different brands and see what is most wanted from their clientele before making large investments in clothing that they may lose money on. Some of the brands offered by Steal Deal include Adidas, Coloud, Akoo, Enyce, Rocawear, Sean John and more. They offer a range of styles from pants and shorts to polos and dress shirts.
Now, Steal Deal has partnered with LAD Solutions, an online marketing firm located in the heart of Los Angeles, to help with their promotions. As partners, LAD Solutions will work closely with the team at Steal Deal to enhance their presence on the internet with the hopes of expanding to new markets and getting found by entrepreneurs looking for help to start their hip hop and street wear apparel business.
About Steal Deal: After opening their doors in 2002, brothers Ebby and Michael Davood have devoted their career to helping retailers in the apparel industry get the products they need to capitalize on the growing hip hop and street wear trend. Steal Deal remains one of the leaders in the clothing market and is the go-to resource for new fashions, trends and styles for many retailers across the country. Based in one of the fashion capitals of the nation, Los Angeles, Ebby and Michael Davood have surrounded themselves with experts in the field and are diligent about offering their customers the ability to purchase the hottest trends that will sell at a wholesale price any small business can afford. To view their selection or learn more, visit http://www.stealdeal.com.