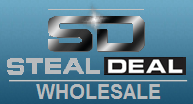 Los Angeles, CA (PRWEB) May 09, 2013
Steal Deal has announced that it will display four times in Urban Suburbon trade shows this year at the Embassy Suites Hotel in South San Francisco, California. The company plans to do its next display in June during the first week of the month. LAD Solutions has partnered with Steal Deal in order to release this announcement regarding the trade show. LAD Solutions will be helping Steal Deal to increase awareness about this show so that more attendees will visit Steal Deal's booth at the show.
Steal Deal typically attends trade shows throughout several locations in the United States in order to obtain new wholesale clothing customers and to show off its latest product lines. This year, some of the new items that Steal Deal will be sharing with trade show participants include men's wholesale clothing, women's and kids clothing as well as accessories. Steal Deal prides itself on being able to provide a diverse mix of products for all types of customers in multiple categories. Steal Deal operates in the wholesale clothing category and offers its products in bulk to buyers at discount wholesale prices.
According to their website, Steal Deal plans to offer some below wholesale pricing at this year's trade shows in order to attract new customers as well as to sell certain wholesale apparel inventory items that they have in stock. The South San Francisco show is only one of the many shows that the company will be participating in this year as it promotes it's wholesale hip hop clothing around the country.
On its schedule for this year, Steal Deal has plans to attend trade shows in several locations including New Jersey, Georgia, Illinois, Florida, Maryland and Nevada aside from this trade show taking place in California.
June will also not be the only opportunity for trade show attendees to meet with the representatives of Steal Deal at the Embassy Suites Hotel in South San Francisco. According to the company's website, Steal Deal will show again later in the year at this location in the second week of October.
Trade show attendees that are looking to get in contact with Steal Deal regarding trade show events at this location have been advised to contact Michael Levy. The contact information is available for this person on their website. The time and exact dates for the next show can also be obtained by visiting the company's website or contacting Michael Levy.
About Steal Deal: Steal Deal Inc., based in Los Angeles, CA, offers wholesale deals on well-known brands. The company's competitive advantage is their ability to offer competitive pricing and high quality goods. Thanks to their experience with acquiring merchandise from new brands at discount rates, they have become well known in the market. Steal Deal offers products to a variety of buyers which include entrepreneurs.