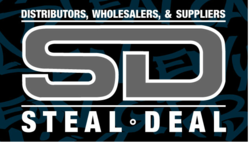 Los Angeles, CA (PRWEB) September 14, 2012
One of the fastest growing apparel industries is hip-hop, where there has been tremendous growth recently, and the trend is not anticipated to decline, creating an increasing need for wholesale clothing. However, a challenge frequently seen by smaller clothing boutiques and customers alike is high prices. In a down economy, it can be difficult for business owners to purchase wholesale apparel that their customers demand at a low enough price so they can provide more value to their end customer. Steal Deal has met this challenge and provides wholesale prices on some of the top brands. They have newly partnered with the well-respected Internet marketing firm, LAD Solutions, to help with their promotions of these products.
Small apparel boutique stores that provide hip-hop clothing to their communities at a reasonable price have found it difficult to purchase the brands their customers demand, which puts them a difficult position. While they want to compete with larger companies who can purchase clothing in bulk at a cheaper price, they are put in a position where their business model and budget leave them only able to purchase in smaller quantities, which can quickly drive up the price per item. This challenge has made it difficult for these businesses to compete effectively.
In 2002, brothers Michael and Ebby Davood noticed the trend saw a need for hip-hop clothing at more reasonable prices. They understood then that providing this clothing to hip-hop boutiques for wholesale apparel prices in smaller quantities would allow businesses to purchase the brands their customers wanted at a price that would also allow them to compete more effectively in a difficult market. Now, businesses of all sizes have a place online to purchase small quantities with Steal Deal, starting at a minimum of six pieces, for prices that typically do not exceed $9.99, with their most expensive items a mere $27.99.
To help promote this option to small businesses and startups in the hip-hop apparel industry, Steal Deal has partnered with LAD Solutions, a well-known online marketing firm based in one of the top hip-hop cities in the nation, Los Angeles. Promotions will allow Steal Deal to reach the large and growing market of hip-hop apparel providers. With the help of LAD Solutions, Steal Deals will continue to enhance their image of being on top of the hip-hop trends, and an industry leader in the latest products for the lowest prices.
About Steal Deal: Founded in 2002 by brothers Michael and Ebby Davood, Steal Deal addresses a significant need in the market of wholesale hip-hop apparel and is now one of the market's leading companies. They continue to provide businesses and startups with a way to compete with the larger companies with deeper pockets by providing wholesale apparel at reasonable rates and in smaller quantities. Since inception, the company has continued to grow along with this increasingly popular market.