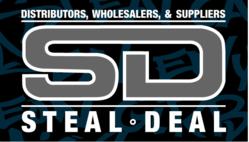 Los Angeles, CA (PRWEB) February 23, 2013
Urban and hip hop consumers are on the lookout for new designs. Steal Deal is trying to cater to the diverse choices of the customers by introducing three new brands: Sneaktip, Tap Out and Neff. The promotion is being handled by LAD Solutions, a popular search engine optimization company from Los Angeles, California.
The hip hop clothing market changes quickly and to stay on the top, Steal Deal has always been keen on keeping up with the latest trends. Lately, Steal Deal has introduced three new brands: Sneaktip, Tap Out and Neff. Sneaktip has dress shirts, jackets, polos, hoodies and tees. Tap Out is a line of different t-shirts, while Neff offers something unique from the company. Customers will be pleased to see the prices, which range from $8 to $15, for most of the apparel present in the new brands.
Since starting their operations, the company's sales revenue has doubled or tripled every year. Steal Deal has two warehouses of 11,000 and 12,000 square feet, and show rooms located in New York and Los Angeles. The account base of the company is diverse – ranging from national chains to around 1,200 mom-and-pop stores. They ship to all 50 states and worldwide to Mexico, South America, UK, Australia, Japan, Canada and Dubai.
The company has a wide base of customers, ranging from those who spend $150 to those who spend $150,000. They won't turn away business to cater the high-end and want all their customers to know they're here for them. 70 percent of their products are closeouts and overruns.
The complete range of the company's apparel and the new brand name clothing can be found online at the official website of the company. Customers looking for affordable hip hop and urban wear can head over to the site and take a look.
About Steal Deal: Steal Deal Inc. is a jobbing company located in Los Angeles, California. The owners, Michael Davood and Ebby, may have been the youngest entrepreneurs to showcase their skills to enter the off-price industry. The company is committed to clothing their consumers from head to toe, regardless of the amount they're willing to spend. Those interested in affordable hip hop and urbanwear should head over to the company's online website.