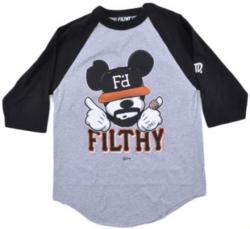 Los Angeles, CA (PRWEB) March 14, 2013
LAD Solutions is currently working diligently to assist StealDeal.com in announcing the addition of Filthy Dripped urban clothing to their already impressive product line, and word is catching on very quickly. Filthy Dripped apparel is a lifestyle brand that goes against the binds of society. They don't care what the majority of the population thinks about their products and they aim to please individuals who feel the same way about what other people think of them. As a result, this stylish clothing brand has become a hot commodity for skaters and other individuals who want to stand out among the crowd. Those who wear Filthy Dripped clothing don't just get out of bed and get dressed; they get out of bed and make a statement! Of course this brand is not only known for their spunky perspective but also for using top-quality materials that make one feel as good as they look.
StealDeal.com stocks a wide variety of name brands from Girbaud to Lavie, M.Society to Rich Yung. Individuals who shop this site can find everything they are looking for in the way of style, in one convenient spot. Of course, now with the Filthy Dripped brand name adorning their apparel list, there is even more selection for those who value a raw, in-your-face appearance. A wholesale distributor, StealDeal.com makes it a point to cater to businesses looking to resell these items; and as a result, they package everything they sell in a 6-piece quantity.
However, purchases are not limited to organizations alone. No matter who an individual is or where they are from, they to can enjoy the same prices as the shops that sell these items at more than double the wholesale cost. Keep one item, give one as a gift, trade with a friend, or sell the extras for some spare cash. Whatever one chooses to do with the pack of six items they receive, they will surely have made a very worthy purchase either way.
About the Company: Steal Deal started in 2002 when two young entrepreneurs set out with a dream to make it in the clothing industry. Stumbling upon the urban clothing focus by chance, they gave it a shot, and they soon found that this market is what would fuel their success. Now eleven years later, StealDeal.com is known as the king of wholesale hip-hop clothing and with the help of LAD Solutions, this reputable site aims to increase their popularity even more. Offering 100% original, high-quality, name-brand apparel at discount prices, StealDeal.com is definitely the place to go for urban street wear that gets noticed, without breaking the bank.