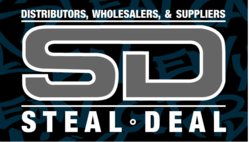 Los Angeles, CA (PRWEB) July 04, 2012
Many consumers have walked into a variety of urban hip hop clothing retail stores, only to find their wallets won't be able to handle the cost. Many stores lack a business model that helps them sell clothing at a profitable rate. Steal Deal, Inc., a company in business since 2002, was founded in order to help companies alleviate this problem.
10 years later in 2012, the company is thriving and looking to expand its business. The company recently began working with LAD Solutions, a respected area internet marketing firm, in order to help bring awareness of the company to the forefront of the minds of clothing retailers.
"These guys are the best. Unbelievable prices, great attitudes, and fresh merchandise almost every week. Michael usually calls me every time they get new stuff and lets me know what I should be buying for my store. They always provide me with same day shipping and never miss a beat," said one satisfied business owner, Vernon Bradley, who also owns his own hip-hop clothing store, Urban Source.
The company currently offers more than 200 new products, in addition to its extensive line of men's wholesale clothing. The new offerings cover every imaginable aspect of clothing, including cargo shorts, NFL-themed shirts, snapback hats, a variety of basketball jerseys, hooded sweatshirts, sweatpants, t-shirts, jeans, shoes, and women's intimate apparel. LAD Solutions will be handling search engine optimization services, which help the company's products rank higher in the search engine results pages and gain more traffic.
No matter what type of wholesale clothing businesses need, Steal Deal either has it in stock, or is working on getting it in stock. Prices for all products rarely exceed $9.99, with the most expensive products typically not exceeding $27.99. Companies must make a minimum order of six and if interested in purchasing wholesale urban clothing should visit the company's website for all the latest deals and product offers.
About Steal Deal, Inc.: The company was founded in 2002 when brothers Michael and Ebby Davood pooled together their life savings at the time, $10,000. Despite the fact they had no experience in the apparel industry, the two found product samples collected from vendors sold well. Steal Deal has managed steady growth ever since and maintains a strong position in the market by staying on top of current trends.