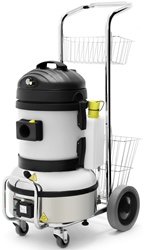 Daimer® is glad to launch the KleenJet® Mega 1000CV, a steam cleaner that comes with special HEPA technology to extract particulates up to three microns in size, the company's Advanced Thermal Ionic Sanitization™ (ATIS®) technology ...
Woburn, MA (PRWEB) March 08, 2013
Daimer Industries, Inc.®, the most reputed supplier of powerful cleaning machines, including technologically advanced portable steam cleaner systems, durable floor cleaning machines, and many more technologies shipped to over 240 countries across the globe, is now shipping the KleenJet® Mega 1000CV, a commercial steam cleaner that creates temperatures as high as 356°F for cleaning of many dirty surfaces within cinemas. The vapor steam cleaner offers pressures up to 105 psi, which is the highest for any 100 percent electric, boiler-based, steam cleaning machine with one power cord.
The ejection of pressurized steam helps in cleaning surfaces, such as armrests; headrests; floors; washroom sinks, taps and mirrors; snack counters; glass surfaces; and more in theaters, making the KleenJet® Mega 1000CV the best steam cleaner in the industry for maintaining many areas within cinemas. In addition, the system is excellent for tile and grout cleaning.
"Dirty armrests on chairs in movie theaters carry tons of bacteria that are easily transmitted to movie goers. Diving with bacteria-laden hands into their bags of popcorn is an activity leading to the transference of germs. Improper cleaning and sanitizing methods can result in the outbreak of various diseases. Machines with effective anti-bacterial technologies and HEPA filters can sanitize most surfaces very well," says Daimer Industries, Inc.® spokesperson, Matthew Baratta. "Daimer® is glad to launch the KleenJet® Mega 1000CV, a steam cleaner that comes with special HEPA technology to extract particulates up to three microns in size, the company's Advanced Thermal Ionic Sanitization™ (ATIS®) technology that is certified to have a kill rate of 99.999 percent on harmful bacteria generally found in movie theaters, and the product's Totally Sealed Water Capture™ (TSWC™) technology to extract allergens."
Daimer® is the nationally and globally known brand of excellent industrial steam cleaner machines. It was the first company to have launched steam vacuum cleaners and high-powered vapor steam cleaner systems for industrial and commercial use in North America. Daimer® equips all its cleaning machines with top-notch technologies that make the cleaning easy and fast. The supplier's machines are utilized by many big international and national companies, and within most industries globally. It ships more than 700 models of cleaning machines to customers in hundreds of nations.
Most diseases are spread through harmful bacteria found in commercial settings, such as movie theaters, stadiums, and malls. Cleaning workers often do not clean always do a thorough job of cleaning under the chairs, washroom taps and door handles, or some hard-to-reach surfaces that become the breeding grounds for various disease-causing germs. Daimer®'s KleenJet® Mega 1000CV features a wide array of accessories that helps in proper maintenance of practically every nook and corner. The robust grout steam cleaner comes with large and small triangular brushes for cleaning corners, a rectangular brush for floor cleaning, a steam or vacuum grout cleaning tool, a steam squeegee for cleaning windows and mirrors, a steam plunger to clean and sanitize washroom sink drains, and many other tools.
The removal of chewing gum wads stuck to chairs and floors in movies halls is a big challenge for cleaning staffs. In order to easily removing gum deposits, the vapor rich steam cleaner is available with an optional chewing gum removal kit that includes the most concentrated gum removal liquid in the industry and heavy-gauge stainless steel brushes.
Those within the cleaning industry prefer Daimer®'s industrial vapor steam cleaner equipment and floor cleaning machines over other brands' cleaning systems. The reasons include the company's efficiency and productivity-increasing technologies and features as well as product cost effectiveness and durability. The Advanced Self-Regulating Continuous Refill Technology™ from Daimer® allows operators to refill the steam cleaner machines without turning off the systems. The efficient portable steam cleaner machines with this technology contain a pressurized and non-pressurized chamber, and the water is added to the non-pressurized chamber for non-stop cleaning.
Daimer®'s steam vacuum cleaners come with stainless steel boilers and heating elements, and its Boiler Scale Reduction™ technology reduces mineral or scale accumulation within the boiler. Boilers made of stainless steel are the best in the industry, and far outshine aluminum used by other brands. Machines from the company save users from unnecessary costs of related to boiler replacements, and are therefore among the best steam cleaner systems on the market. The company's patented, replaceable heating elements allow for the replacement of only the heating elements, rather than the whole boiler.
Most importantly, although the KleenJet® Mega 1000CV is not a conventional carpet steam cleaner, it can still be used for spot cleaning carpets and upholstery. The top-notch floor steam cleaner features a boiler volume of four liters, water chamber capacity of three liters, and an extraction chamber size of five liters. The 1600 watt machine also features detachable 10' steam hoses and steam vacuum hoses for efficient cleaning.
For Additional Information:
Additional information about the KleenJet® Mega 1000CV industrial steam cleaner can be garnered by visiting Daimer®'s website or by calling Matthew Baratta at (888) 507-2220. The machines are shipped to hundreds of nations globally.
About Daimer Industries, Inc.®:
Daimer Industries, Inc.® is a 100 percent American company that supplies advanced cleaning machines to customers in many countries. Some of the systems offered by the company include steam vacuuming machines, industrial car wash equipment, carpet steam cleaner systems, hard surface cleaners, car detailing and other automobile detailing systems, gum removal equipment, pressure cleaners, and more. Daimer® machines are used for innumerable cleaning applications, some of which include parking lot maintenance, machinery cleaning, degreasing machinery and surfaces, hospital maintenance, commercial kitchens cleaning, cleaning food service areas, and much more.