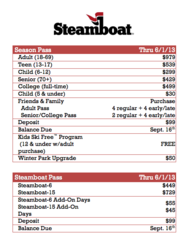 Steamboat's array of pass options make the home of Champagne Powder® snow extremely affordable and flexible.
Steamboat Springs, CO (PRWEB) March 15, 2013
Steamboat-Ski Town U.S.A. ® unveiled its ski season pass pricing today, bringing back a broad variety of flexible pass programs and significant value for the 2013/2014 season. Steamboat Passes are currently offered at the guaranteed lowest prices of the year.
"Steamboat's array of pass options make the home of Champagne Powder® snow extremely affordable and flexible, especially when considering the scope and quality of the overall mountain experience," said Rob Perlman, senior vice president of sales and marketing for the Steamboat Ski & Resort Corporation. "Industry leading programs such as Steamboat's Kid Ski Free with Season Passes, College Passes, and exclusive savings throughout the winter season all combine to offer a very attractive and comprehensive program within the industry."
Steamboat's pass program will see changes for the upcoming season with a significant reduction to the price of the College Pass, new name and modifications to the Steamboat-6 and Steamboat-15 passes, mid-season pass deadline (August 15th) extended to Labor Day (Sept. 2nd), and return of the 1st Tracks Season Pass.
Steamboat's unrestricted $979 adult season pass offers incredible value for the high frequency skier and rider. For the 28th straight season, when a parent or legal guardian purchases an adult Steamboat Season Pass, one child (12 & under) will receive a free child season pass. Key Season Pass benefits allow pass holders to enjoy additional savings on dining, rentals, Ski & Snowboard School, guided gourmet snowshoe tours and Steamboat Grand dining all season long. Again this season, any Steamboat Season Pass purchased by 6/1 can be upgraded to include unrestricted access to Winter Park Resort for only $50.
The Steamboat Pass, formerly known as the PURE Pass, provides six days of skiing and riding for $449 and fifteen days for $729, when purchased by June 1st. Through April 15th only, the Steamboat-6 is being offered at a special, limited time $419 rate. As an added bonus, the Steamboat pass enables pass holders to reload their individual pass with special $45 tickets for Steamboat-15 and $55 tickets for Steamboat-6 with no restrictions throughout the season. In addition, pass holders may redeem any unused days for gondola access during the summer.
Back for the 2013/14 season, the 1st Tracks special direct-to-lift season pass will be offered for $269. This pass provides special admittance to board the gondola between 8am to 8:15am accessing terrain in the Sunshine and Priest Creek area before anyone else. Available exclusively to season pass holders, this pass is offered in limited quantities.
Savings go even further as adult pass holders are eligible to purchase eight specially discounted lift tickets for friends and family throughout the season. Four early or late season Friends & Family tickets (two new for 13/14) join the four regular season tickets. Friends & Family tickets are $59 for Early Season (opening to 12/20) or Late Season (April 1-14); $79 for the remainder of the season.
Steamboat allows guests the option to lock in these prices with $99 down and final payment due September 16th. Prices on all pass products are guaranteed at the lowest rate of the season through June 1, 2013; with the exception of the Steamboat-6 available at $419 through April 15th. All passes are available for purchase at steamboat.com or through Steamboat Central Reservations®, 877-276-2628. Deadlines, restrictions and details may be found at Steamboat's Ski Season Pass page.