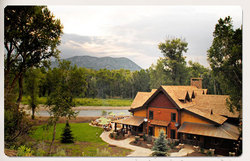 Steamboat Springs, CO (Vocus) August 3, 2010
Marabou is a ranch land community outside of Steamboat Springs, Colorado that has seen incredible growth, thanks to the unique concept of shared ranching. Owning a piece of Marabou's esteemed Colorado ranch property is likened to owning an $85 million dollar ranch, at just a fraction of the price.
All of the homesteads at Marabou offer an exquisite balance of inclusion and privacy coupled with top-tier community amenities. Throughout the development of Marabou, the planners have maintained a commitment to preserving the integrity of the surrounding wilderness. The efforts taken to preserve the land earned Marabou Developers the EPA Green Power Leadership award for exemplary green power procurement.
With the vision that Marabou will be the premier offering among the available options of Steamboat Springs land for sale, the developers have created the most optimal opportunities for ranch land owners to experience rest, relaxation and the great outdoors. Amenities available exclusively to Marabou residents and their guests include, but are not limited to: the River House Lodge – a place to meet neighbors and host parties, a barn, River's Edge Fitness Center which houses the revolutionary TechnoGym equipment, River's Edge Pool, The Casting Room Theater, Outfitters Cabin, world class fly fishing, and the Downstream Spa.
As a complement to Marabou's devotion to outdoor sports, the Colorado mountain property developers have brought on board world champion Master Guides to offer "Safe Adventure" and expert guidance in the areas of mountain biking, equestrian, snow sports and fly fishing. Marabou ranch owners have exclusive access to these master guides as they offer their friendship and guidance to those who choose to take part in the activities they have to offer.
About the Company: Marabou's ranch property ties together breathtaking scenery, resort-styled amenities, and the thrill of owning a ranch. Those who are interested in being part of the shared ranch community at Marabou are invited to request more information by visiting http://www.MarabouRanch.com/Contact.aspx or calling 970-879-7919.
# # #