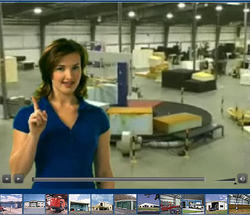 Mc Kees Rocks, PA (Vocus) November 26, 2010
Olympia Steel Buildings recently announced the launch of their new website targeting mobile device and smartphone users. The website provides company and product information, including videos in an appealing format for mobile device and smartphone users on iPhone, Android, Blackberry, Windows Phone 7 and other popular mobile devices. Smartphone and mobile device visitors to Olympia Steel Buildings company website will seamlessly redirect to the new mobile website where they can access product information, request online metal buildings quotes and automatically call for steel buildings pricing and information from their smartphone or mobile device.
"Our pre-engineered steel building customers are moving from desktop and laptop computers to mobile devices and smartphones that enable them to make and receive phone calls and emails, surf the web to shop for products and information, keep their appointments up to date and use a variety of applications while they are on the go," observes Arnold Davis, Company President. "Our building customers appreciate the fact that they can go on our website from any mobile device and get the information they need with just a few taps. We are growing a very loyal customer base by reaching out to our valuable audience of busy customers, businessmen and building construction professionals with our new mobile site. By some reports, there will be 1.4 billion people with smartphones worldwide by 2015 and we are positioned to attract that growing market segment. We expect great things from this new media in the months and years to come and are excited about this new opportunity to engage the mobile web."
About Olympia Steel Buildings
Olympia Steel Buildings® are supplied by Universal Steel Buildings Corp, an industry leader in pre-engineered steel buildings for over 40 years, and sole supplier of Olympia Steel Buildings® to commercial, industrial, agricultural, residential, government, military and civilian agencies. Olympia Steel Buildings come with their outstanding weather-resistant PBR roof, or you can opt for their patented Zeus-Shield® standing seam metal roofing system. GSA approved Olympia Steel Buildings set themselves apart by using better materials, better quality control, exceptional customer service and industry-leading warranties, including a 25-year rust through perforation warranty. Olympia pre-engineered steel buildings are precision engineered and expertly erected to give you a "tight" building that reduces air infiltration into the building saving on HVAC costs. They offer 12 energy efficient colors for metal buildings to reduce cooling costs and come with a 40-year warranty against chipping, cracking, peeling or blistering. Because of such key features, Olympia pre-engineered steel buildings can qualify under LEED Green Building guidelines. For more information about Olympia Steel Buildings, visit their website http://www.OlympiaBuildings.com or call 888-449-7756 for more information.
###