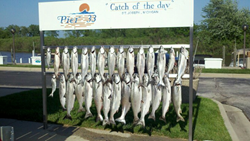 ST. JOSEPH, Mich. (PRWEB) May 02, 2019
Pier 33 Marina will be the headquarters facility for the 2019 Schu's Summer Challenge presented by the Southwest Michigan Steelheaders May 10 & 11 in St. Joseph, Michigan.
This exciting Pro & Am fishing tournament has earned a well-deserved reputation as one of the finest in the region, attracting anglers from throughout Michigan, Indiana, Illinois and Wisconsin for the great early-season fishing found offshore of St. Joseph.
Pier 33's showroom will again host a number of key tournament events. Tournament check-in and registration begins at the Pier 33 showroom on Thursday May 9 at 5 PM, with the Captain's Meeting immediately following at 7 PM.
This year's Summer Challenge features two divisions, Open and Amateur. The Open division will fish both days and the Amateur division will fish Saturday only, giving fishermen a chance to choose the division that best suits their skills and days.
Scheduled fishing hours for both days are 6:45 AM thru 2 PM. The tournament concludes with an exciting live weigh-in for the top contenders and the Awards Dinner and ceremony at Pier 33's showroom, starting at 4 PM on Saturday May 7.
Schu's Grill & Bar, located in downtown St. Joseph is the headline sponsor of this year's tournament and Schu's will be providing a spectacular prime rib dinner for fishermen during the Awards Dinner on Saturday. In addition, Schu's will kick-off the tournament with Schu's Shootout, a special preliminary event to be held Thursday May 9.
More details can be found online at http://www.pier33.com/welcome-steelheaders/, including tournament rules and a complete schedule of events.
Pier 33 is a full-service marina located in St. Joseph, Michigan and is a new boat dealer for quality fishing boats from Robalo Boats, as well as family runabouts and performance cruisers from Chaparral Boats.