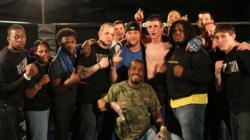 Belcamp, Maryland (PRWEB) March 25, 2013
This past Saturday Top Flight MMA was in full force at the east coast's premiere amateur MMA developmental league, Stellar Fights. Top Flight MMA fighters James Williams and Steven Eilola stepped back in the cage once again to gain experience and build their rapidly progressing skills as they move closer to their goal of becoming elite level MMA champions.
Williams started the night off being the second fight on the card. It didn't take long to please the crowd and the whole section of Top Flight supporters that came up. In the first 5-7 seconds Williams lands a stiff jab lands that floors his opponent as he attempted to land a over hand bomb of his own. The crowd erupts and caught off guard, Williams pauses for a second due to surprise of the jab's effectiveness, then finishes the match with a massive right hand to put his opponent all the way out. The ref calls that action at 9 seconds flat and Williams sets a new all time record for Stellar Fight's fastest knockout. Williams improves his record to 2-0.
Then in the main event for the #1 contender-ship for the welter weight title, Eilola had his toughest task to date in Delaware based, Brandon Hudson. The first round starts out with Eilola circling and using his moving to keep Hudson at bay. Eilola gets Hudson's attention with a couple of round kicks to the leg before Hudson pressed Eilola to the cage in attempt of a take down. Eilola defends the take down, lands putting him in cross side top positition. From there he works ground strikes and tries to work in a crucifix. Hudson scrambles out and Eilola gets to his back where he tries to finish with a rear naked choke. The round ends with Eilola in back control. Round 2 starts off like round 1. This time Eilola lands another take down, but Hudson quickly reverses it getting top control landing some effective ground and pound. Eilola manages to sneak in a tight triangle, but Hudson uses his craftiness to escape the seemingly impossible submission attempt. Up to this point Eilola is the one doing the most with striking, grappling and submission attempts. Round 3 starts with Hudson swinging to end the match, it would seem that he is down on the judges score cards. Both fighters are starting to show fatigue from the battle, but it is Hudson's strikes that seem to be finding it's mark. Eilola quickly lands a fast double leg take down, ending up in cross side position where he works more effective ground striking. When all seems to be over Hudson reverses the position and ends up on top and lands a few punches of his own. At this point the crowd is in an uproar for this back and forth battle. Eilola then transitions to the back of Hudson where he seals the deal with the a rear naked choke. The 19 yr old, Eilola, improves his MMA record to 4-1 and now the number 1 contender to the welterweight title.
The Top Flight fighter's coach, Ron "ChoirBoy" Stallings, had this to say, " I am extremely pleased with the guys performance tonight. I reminded them to make sure they have fun because it important to the fluidity of their moves. And to assure them of how awesome they already are, I reminded them of all the training they did with the pro MMA fight in the area. They both sparred with me, Bellator pro Aung La Nsang, and a few other pros and we didn't take it easy on them. So due to the that preparation they were more than ready and I am just pleased at the growth of these 2 martial artists. They serve as excellent examples to all the Top Flight students and all aspiring MMA competitors on how to grow and succeed as a martial artist.
After winning by a 9 second KO Williams had this to say, " I want to thank all the Top Flight family that came out to support us, thank you for training with us and pushing us and sharing words of encouragement, I share this win you guys." When asked about the knockout, Williams said" well you know what, I was shocked but coach said this was going to be my best weapon so we worked on it tirelessly. It still needs to get better, but with the way coach is training us, it will get there for sure".
Eilola had this to say after his victory," Brandon was the toughest guy I've ever fought definitely, I was confident in my skills and that I could get the victory, I have the best coach and best team behind me."
Top Flight MMA indeed stole the show at Stellar Fights and is looking forward to do so again in the very near future. Eilola is now the mandatory challenger for the welter weight title and James is now a front runner for a title shot.
Next weekend, March 30th, Top Flight is opening their doors to the public for a free seminar so they can see the joys of MMA training and learn some of the next level techniques competitors use in the cage, and they want to make sure everybody in Harford County knows about the seminar. MMA Seminar in Harford County Maryland March 30th