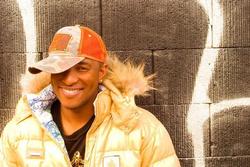 We just added 'An Lean' and put it into rotation 3-4x/day. We're already seeing emails and phone calls inquiring about the record.
Los Angeles, Calif. (PRWEB) November 30, 2007
"Snap first, an then lean and then lean..." sings Sterlen Roberts as his sound echoes on dance floors and over radio waves with the launch of his new single, "An Lean" which is already in heavy rotation across the nation.
MTL Records (Music That Lives), CEO, Todd DiMartino signed the indie label's first music sensation, Sterlen Roberts earlier this year.. The new rap artist is snappin' up attention with his unique style of integrating classical piano and rap - a fresh combo to hit the hip hop music scene.
Sterlen Roberts is a producer, musician and writer. He is no stranger to the studio, working with some of today's most respected talent including: Keyshia Cole, DeVante Swing, K-Ci and JoJo, Latoya London and the one and only Hypeman, Flavor Flav.
With Gospel in his blood and rap on his tongue, Roberts emerges as a fresh, new sound in the hip hop world. Sterlen's mix of phat beats and rhyming riffs brings "An Lean" to the forefront of a competitive play list.
"He has the complete package," said Todd DiMartino, CEO of MTL Records, LLC. "I knew the minute I heard his demo that he was the right artist to launch our new record label."
DiMartino took no time in wrangling a dynamic team to launch his first artist. He was persistent in his pursuit of acclaimed music attorney, Dina LaPolt. . Brandon Lamela, who has worked with the likes of Dr. Dre and Zack Katz, was snatched up as an A&R pro for MTL Records. Joe Hecht's, curiosity was coerced after hearing about Sterlen's unique sound and style. Hecht, is a well-known radio promoter from New York signed up after hearing "An Lean" and immediately started placing the song in rotation. With a publicist in place and studio time under his belt, the industry awaits his forthcoming album.
After spending long hours in the studio to create his first single, Roberts showcased at the invitation-only annual 4th Quarter Music Presentation held in a private location in the Bay Area. Program Directors and music labels including Capitol, Jive, Universal, Zomba, Interscope and Atlantic just to mention a few, flew in from all over the United States to tune into "what's hot and who's next" in the music biz. Sterlen took the stage to reveal three new singles from the anticipated release of his first album, "Eulogy of Sterlen Roberts". It worked. Radio pros took notice and began spinning "An Lean" in their radio lineup.
"I'm really looking forward to playing this record," said Kevin Cruise DJ/Program Director of KUUU (U92) of Salt Lake City. "We just added 'An Lean' and put it into rotation 3-4x/day. We're already seeing emails and phone calls inquiring about the record."
Sterlen Roberts' new floor-grinding single, "An Lean" is definitely making waves and quite possibly will start a new dance craze as he commands "snap first, clap once an lean" to a multitude of listeners, grinding their sweaty bodies on the dance floor. Truly, Sterlen Roberts can lean like no other.
###