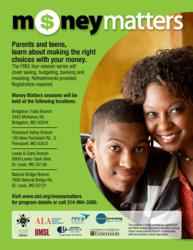 St. Louis, MO (PRWEB) March 28, 2013
St. Louis County Library will host a series of free, financial and investing workshops for parents and teenagers starting in April. The Money Matter series will be held at multiple branches, starting with the Natural Bridge Branch on April 11 at 6:30 p.m. The Natural Bridge Branch is located at 7606 Natural Bridge Rd. in Normandy.
The Money Matters workshops will allow parents and teens to learn about making the right choices with their money. The four–session series will cover budgeting, banking, credit and saving, and investing. Parents will learn these basics to put their kids on the right path to financial responsibility. Teens attending concurrent sessions will play interactive games to learn the same concepts. Refreshments will be provided at each session. The workshops are free, but registration is required by calling 314-994-3300 or online at http://www.slcl.org/events.
Program dates for the first Money Matters series at the Natural Bridge Branch are as follows:
Thursday, April 11, 6:30 p.m.
Thursday, May 9, 6:30 p.m.
Thursday, May 16, 6:30 p.m.
Thursday, June 13, 6:30 p.m.
For more information on the Money Matters workshop, including additional session dates and locations, please visit http://www.slcl.org/moneymatters.
This program is made possible by a grant from the FINRA Investor Education Foundation through Smart investing@your library®, a partnership with the American Library Association.
Additional partners include UMSL, Lincoln University Cooperative Extension and University of Missouri Extension.
###