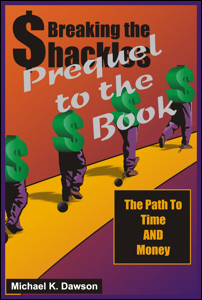 Financial Freedom is freedom to focus on what is truly important to you and your family without having to trade time for a wage. It is enabled by a portfolio of income producing assets, managed by you, which generates sufficient income to cover your yearly expenses on an ongoing basis. It provides both time and money
Acton, MA (PRWEB) June 11, 2007
Michael K. Dawson, founder of The Time & Money Group, became Financially Free sometime between 1998 and 2000. However, he didn't realize it - as he was chasing its commonly accepted definition of a life of leisure with a couple of million dollars in the bank. This led to him nearly being wiped out in the stock market crash of 2000. Several years later he realized that he had it all wrong and redefined Financial Freedom to the following:
"Financial Freedom is freedom to focus on what is truly important to you and your family without having to trade time for a wage. It is enabled by a portfolio of income producing assets, managed by you, which generates sufficient income to cover your yearly expenses on an ongoing basis. It provides both time and money".
After that epiphany, 18 months later he said goodbye to his 9 to 5 and hello to the world of Financial Independence.
During his journey, he has leveraged all of the tools of the financially free from real estate investing to small business ownership, but his current tool of choice is the stock market. Readers following his Big Build-Out portfolio are up over 35% year to date. Each day he shares with his blog readers' stock strategies, personal finance advice and other matters critical to achieving Financial Freedom.
Dawson has compiled his best blog articles in his newly released short book titled, "Prequel to the Book." Four previously unpublished articles are also included. One of the most interesting ones is called "Capital Need to Walk." In that article, Dawson discusses the process he used to determine how much "money in the bank" he needed before leaving Corporate America.
Unlike many, Dawson does not promote an easy path the Financial Freedom. The "Prequel to the Book" is organized around his 5 Not So Easy Steps to Financial Freedom: Dream, Shift, Learn, Act and Persist. As the title suggest there is a subsequent booking coming, but Financial Freedom is about doing not waiting. "Prequel to the Book" jump starts your journey.
Michael K Dawson founded The Time and Money Group with the aim of educating and sharing 20 years of experience on how to reach financial freedom. The company's website Breaking the Shackles of the 9 to 5 serves as repository of information to put you on the fast track to becoming financially free.
###