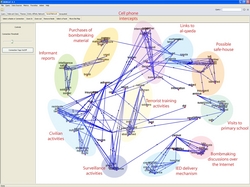 The motivation for BOBCAT is to enable accurate decision-making to occur under the real-time constraints found in today's military and intelligence environment
Arlington, VA (PRWEB) February 20, 2008
DECISIVE ANALYTICS Corporation (DAC) today released BOBCAT 4.1 (http://bobcatonline.com), the latest version of its suite of services to accelerate the intelligence analysis process. BOBCAT provides actionable intelligence in real-time enabling the Warfighter to make life and death decisions.
"The motivation for BOBCAT is to enable accurate decision-making to occur under the real-time constraints found in today's military and intelligence environment," says DAC Director Dr. Jim Nolan. "The terrorists are very adept at avoiding situations where they are at a disadvantage. To stay ahead of the threat and proactively disrupt terror networks we need the ability turn data that may be located anywhere, stored in any format, into actionable intelligence at anytime."
The BOBCAT suite of services enables analysts to identify terrorist cells and predict their intent by finding hidden relationships against an overwhelming backdrop of noise. BOBCAT processes data from standard intelligence sources, Microsoft Office™ formats, Adobe PDF™, websites, blogs, chat, and email. "We want to be able to turn any structured or unstructured data source into actionable intelligence," says Nolan.
BOBCAT has three core modules: Themes, Networks, and Prediction. The Themes module automatically identifies common threads in the data stream. "I like to describe Themes using the newspaper analogy," says BOBCAT Product Manager Jessica Bradley. "Imagine your newspaper as a set of unorganized articles, BOBCAT Themes would automatically organize the articles into the sections for World News, Sports, Business, and so on. Intelligence data by its very nature lacks organization, BOBCAT Themes organizes it so that analysts can quickly determine where they should focus their attention."
BOBCAT Networks automatically identifies the hidden relationships between people, places, and organizations. Bradley says that this information is presented in such a way that the hidden relationships jump out to the analyst visually. "We have seen the combination of BOBCAT Themes and Networks enable analysts to really focus in on the data that is most important, ask the right questions, and drive to accurate conclusions very quickly," she says.
BOBCAT Prediction takes the output of BOBCAT Themes and Networks and provides predictions on terrorist activities by combining historical and real-time data. This allows for a proactive stance against the terrorist threat, by providing the opportunity to disrupt terrorist activities before they occur. "BOBCAT Prediction is able to fuse massive amounts of data, structured or unstructured, to give the analyst the most likely outcomes of any given situation," says Nolan.
Customers of BOBCAT include the US Army, Air Force, and Navy for battle command and intelligence applications.
For additional information or a demonstration on how BOBCAT can be used to defeat the terrorist threat, please contact Mike Adams at (703) 871-8681.
About Decisive Analytics Corporation: Founded in 1996, DECISIVE ANALYTICS Corporation (DAC) is an employee-owned company headquartered in Arlington, VA. DAC delivers industry-leading products and services to commercial businesses, the Department of Defense and a wide range of other government agencies. DAC is consistently ranked among the 50 Fastest Growing Technology firms in Virginia, and the 500 Fastest Growing Companies in North America. The company also has offices in Colorado Springs, CO, Columbia, MD, Sellersburg, IN, Richland, WA, and Ft. Walton Beach, FL.
Contact:
Mike Adams
Decisive Analytics Corporation at Carahsoft
(703) 871-8681
###