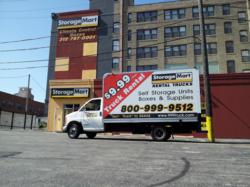 Chicago, IL (PRWEB) June 04, 2012
StorageMart announced today that in honor of the moving season, they will offer a one-day only discount for 10x10 storage units at their Halsted storage location in Chicago, Illinois.
The "Monday Madness" special will run on June 11, 2012 and offer 100 square feet of self storage for only $99.00 per month, for up to six months, a total savings of over $310.00. The special is a one-day only offer and valid to in-store customers only.
"Monday Madness" can be combined with the existing "99% Off Your First Month" special, so that customers pay around $1 for the first month. The savings doesn't end there. StorageMart, located on Halsted & Chicago, offers a free moving truck to new storage customers.
Sarah Little, StorageMart spokesperson, offers this advice, "Moving on Monday, June 11, 2012 is the smartest way to save this summer. StorageMart is offering such steep discounts, and throwing in a moving truck, that it's worth planning your move around this date." The company estimates a total savings of $760 to tenants taking advantage of their combination of specials.
StorageMart recommends calling ahead to reserve your storage unit and schedule the free moving truck.
About StorageMart
StorageMart is an international self storage company with over 130 locations across the United States and Canada. The company is one of the largest privately-owned self storage companies in the industry, offering residential and commercial self storage units for rent, as well as moving and packing supplies at each location.
StorageMart Gives is the charitable arms of the company, striving to identify partner organizations in local markets. Additionally, the StorageMart 'ScholarSmarts' program awards $10,000 annually to students pursuing higher education
"Monday Madness" Rules
Offer valid only at StorageMart self storage Chicago located at 1015 N. Halsted Street. Discount available in-store only on Monday, June 11, 2012 for 10x10 storage units at $99.00 per month, for up to six months, at which time market rates will apply. No obligation to rent more than 1 month. Offer is valid while supplies last.
"Monday Madness" offer can be combined with "99% Off First Month" special and "Free Moving Truck". "99% Off" discount is subject to availability. Free moving truck is scheduled on first come, first serve basis.