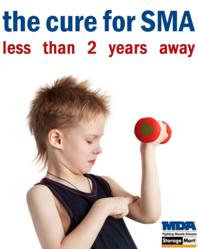 Columbia, MO (PRWEB) March 08, 2013
Dr. Christian Lorson, PhD. dreams of helping find a cure for spinal muscular atrophy within the next two years. And his dream is close to coming true. Dr. Lorson has been conducting groundbreaking research at the University of Missouri in Columbia, MO and has identified spinal muscular atrophy pathways that, when treated, can profoundly improve and nearly correct the course of this debilitating disease. The Muscular Dystrophy Association, Inc. (MDA) provided more than $380,000 in grants to Dr. Lorson's research and others inspired by the doctor's research are supporting his work in inventive ways.
StorageMart, a self-storage company headquartered in Columbia, Missouri has partnered with the MDA to launch "Pin for a Cure", a Pinterest contest. "To hear that this research is happening right down the street in our hometown inspired us to join this dream, " says Sarah Little, Interactive Marketing Director at StorageMart, one of the largest national self-storage providers in the country.
Spinal Muscular Atrophy (SMA) is a degenerative disease that affects 4 out of every 100,000 people and is the leading genetic cause of death in infants. The onset of the disease occurs most often from infancy until 2 years of age, but can present itself in teens and adults.
"Our philanthropic efforts are focused on improving the lives of children," says Ms. Little. "Families who rent self storage are usually in the midst of a transition. Moving and change can be difficult for kids, especially when they're sick."
StorageMart has pledged to give $1, up to $5,000, to the MDA for every time the "Pin for a Cure" image is 'pinned' on Pinterst. Pinterest users can go here to 'pin' the image http://www.storage-mart.com/blog/charity-fundraisers/pin-for-a-cure-on-the-brink-of-curing-spinal-muscular-atrophy/ .
The "Pin for a Cure" project will run from March 7, 2013 until March 31, 2013. StorageMart will present MDA with a check on April 1, 2013 in Columbia, Missouri.
"The Muscular Dystrophy Association is thrilled to be teaming up with StorageMart," says Patti Butera, Executive Director of MDA. Ms. Butera says of the self storage company, "They are very mindful of the communities they serve and reached out to the MDA to see how they could help us in achieving our mission. We feel privileged to work with StorageMart on the 'Pin for a Cure' campaign and monies raised by the campaign with help fund research into neuromuscular diseases as well as the MDA Summer Camp and support services. The MDA and the families we serve are truly grateful for their support."
The MDA, a nonprofit agency dedicated to fighting muscular dystrophy and related diseases, is dedicated to raising money and awareness to support research. The organization also provides health care services, support services and advocacy for families coping with muscular dystrophy.
To learn more about the MDA please visit them at http://www.MDA.org