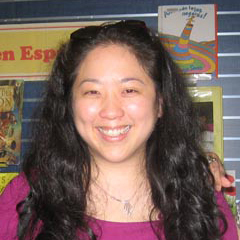 To the somewhat bare Biblical account of Paul's sojourn in Damascus, she has not only added believable additional characters but incidents that are equally credible yet riveting and thrilling.
Northampton, MA (PRWEB) September 15, 2010
Tom Howard Books is pleased to announce the results from its 18th annual Tom Howard/John H. Reid Short Story Contest. Emily Jiang of Palo Alto, CA won first prize and $3,000 for her story "Paper Daughter". Over 1,000 entries were received from around the world.
Suspenseful, atmospheric, and moving, "Paper Daughter" takes us to Ellis Island in 1940, where one wrong answer to the immigration officer's questions spells deportation and a return to poverty. The young heroine must be clever to keep her past a secret, yet not appear more educated than a good Chinese girl ought to be. A sudden crisis forces her to choose between heroism and self-preservation. Contest judges John H. Reid and Dee C. Konrad said, "It is difficult to craft a gripping tale involving unfamiliar (and even unfathomable) people in realistic life-and-death situations, but author Jiang brilliantly turns all apparent obstacles aside by cleverly building up the reader's involvement with and sympathy for the story's principal character. Indeed, the narrative moves towards its final resolution with such power and force that even the most experienced and inured judges cannot fail to be moved."
Second prize of $1,000 was awarded to M.T. Gabrick from Peoria, IL for "The Brave One", a vivid retelling of Acts 9:1-19. Before his conversion, St. Paul was known and feared for persecuting the followers of Jesus; now, one such family must work up the courage to obey God's command to welcome him into their home. The judges said, "To the somewhat bare Biblical account of Paul's sojourn in Damascus, she has not only added believable additional characters but incidents that are equally credible yet riveting and thrilling."
Arlene Lidbergh-Jasper of Anchorage, AK won third prize and $400 for "Hall of Fame". The author's father was a renowned portrait painter of Major League Baseball players in the 1950s. In this affecting memoir, she recounts a visit to a special collection of his work at the Baseball Hall of Fame in Cooperstown, NY. The judges called it "a beautifully written and highly engaging account of the Cooperstown museum and its exhibits, written from the inside by the daughter of one of baseball's finest artists, Charles Lidbergh."
Mari Grana of Santa Fe, NM won fourth prize and $250 for "The Balcon". In a poor Mexican village, a devoted yet unhappy priest is embittered by the imminent closing of his church, until the appearance of a mysterious stranger prompts him to make peace with the sacrifices he's made, and to start afresh. The judges said, "Submitting a religious story to a general-interest magazine or an open-to-all competition is generally an invitation to Nowheresville. But in 'The Balcon', Mari Grana has come up with a story that is not only intriguing and suspenseful, but one that carries an absorbing human conflict fueled by an obstinately wrong-headed decision--and that is the super-important aspect where most entries in this category fall down."
Most Highly Commended awards of $150 each were given to Annie Eagleton, Arielle Kaden, Fern Langmead, Lance Mason, Mary Lou Simms, Judy Willman, and Linda Zabolski. A Special Encouragement Award of $100 was given to Suzanne Covich. Their winning stories are published online at WinningWriters.com.
About Tom Howard Books and John H. Reid
The Tom Howard/John H. Reid Short Story Contest accepts short stories, essays, and other short works of prose. All styles and themes are welcome. Both published and unpublished work are accepted. The 19th contest is open now and has a postmark deadline of March 31, 2011. Entries are accepted online and by mail. For guidelines, please visit WinningWriters.com.
Contest sponsor and final judge John Howard Reid has himself won first prizes and other awards in prestigious literary events. A former journalist and magazine editor, he is the creator of Merryll Manning, the Miami-based police sergeant who made his debut in Merryll Manning: Trapped on Mystery Island. He has also published several historical novels, a collection of poetry, a guide to winning literary contests, and over fifty books of film criticism and movie history. He lives in Wyong, Australia. Mr. Reid is assisted in the judging by Dee C. Konrad. A leading educator and published author, Mrs. Konrad was Associate Professor in the English faculty of Barat College of DePaul University, and served as Dean of Liberal Arts and Sciences for the year 2000-2001.
About Winning Writers, Inc.
Winning Writers assists with entry handling and publicity for the Tom Howard/John H. Reid Short Story Contest as well as two annual poetry competitions sponsored by Tom Howard Books. Winning Writers is today's leading source for poetry contest information. We are proud to have been selected as one of the "101 Best Websites for Writers" by Writer's Digest for six years running (2005-2010). Our online database, Poetry Contest Insider, ranks and profiles over 750 poetry contests and over 300 prose-only contests. Our free email newsletter offers news about free poetry contests and quality literary resources.
Winning Writers was founded in 2001 by Jendi Reiter and Adam R. Cohen. Learn more at WinningWriters.com.
###