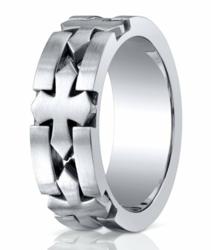 St. Patrick's Day festivities start early this year at JustMensRings.com with a special limited time sale featuring hundreds of men's rings and jewelry items marked down to below wholesale prices.
Jensen Beach, FL (PRWEB) February 13, 2013
Shoppers looking to celebrate St. Patrick's Day in high style will no doubt find something appropriately festive at JustMensRings' annual St. Patrick's Day Sale, starting February 15, 2013. With prices slashed up to 75 percent off on over 600 styles of designer men's rings, wedding bands, Celtic rings and jewelry for men, this seasonal sale has something for every taste and budget.
Celebrated each year on March 17, St. Patrick's Day commemorates Saint Patrick, one of the patron saints of Ireland. For those observing Lent, St. Patrick's Day is often a day when restrictions on eating and drinking are lifted, and many modern observers of the holiday celebrate accordingly. In addition to sometimes raucous festivities, people across the world celebrate St. Patrick's Day by attending church services, wearing green (the color of the shamrock) and holding parades.
Celebrating St. Patrick's Day in proper fashion isn't just limited to wearing green. Many men, especially those with Celtic heritage, choose to wear Celtic men's rings and jewelry for the holiday. JustMensRings' selection of Celtic men's rings includes a number of Celtic knot and Claddagh rings, as well as designer men's rings by Benchmark with eternity style Celtic crosses. Claddagh rings, which often double as promise rings, are a particularly popular choice and feature a well-known motif of two hands clasping a crowned heart.
It's not just Celtic men's rings that will be on offer at the JustMensRings St. Patrick's Day Sale, however. Hundreds of designer men's rings, wedding bands and men's jewelry items are set to be reduced to below wholesale prices for this limited time sale. JMR carries the designer brand Benchmark exclusively, and an impressive number of Benchmark styles will be included in the St. Patrick's Day Sale. No budget will be excluded from this special sale event; men's rings in the sale section will range from luxury precious metals like gold, platinum and palladium to affordable contemporary materials like tungsten, titanium, ceramic, cobalt chrome and Argentium silver.
"St. Patrick's Day is a great day to cut loose and spend time with friends and family," says JustMensRings.com's president and owner Roy Devine. "JMR's St. Patrick's Day Sale is the perfect way for us to celebrate with our friends and customers while offering unbeatable prices on men's rings and jewelry."
JustMensRings.com's St. Patrick's Day promotion will include savings on Celtic rings, designer rings, men's fashion rings, wedding bands and jewelry for men. Most in-stock items ship within one business day of being ordered, and in addition to heavily discounted prices and free shipping shoppers can enjoy a 30 day money back guarantee on all items, as well as a lifetime guarantee and free engraving on all designer men's rings.
About JustMensRings.com
At internet-only retailer JustMensRings.com, customers have come to expect the best possible prices on an extraordinary selection of men's rings, as well as the highest standards of service, selection and quality. The proof is in the numbers: JMR now offers the largest selection of men's fashion rings online, and is the only store in the United States that offers men's large size rings up to size 20. JustMensRings.com leads the competition with an unparalleled assortment of unique and alternative men's wedding rings in a range of traditional and contemporary materials including gold, platinum, palladium, titanium, tungsten, silver, stainless steel, cobalt chrome and Seranite (or ceramic). Despite the recent rise in gold prices, JustMensRings continues to keep item pricing low and affordable, and shoppers would be hard-pressed to find better deals elsewhere. JMR is dedicated to providing its customers with a simple and secure online shopping experience, and offers a 30 day guarantee and free shipping on all orders over $99.
For more information on JustMensRings.com, please visit http://www.justmensrings.com.