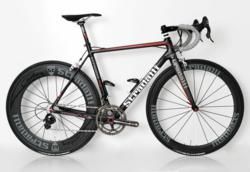 The R7 is our newest design which is more of a revolution than an evolution.
Pompano Beach, FL (PRWEB) March 06, 2013
Stradalli Cycle, the affordable high performance carbon bicycle manufacturer, is pleased to announce the introduction of the "R7" carbon fiber road bike frame. At just over 900 grams, the R7 is the lightest frame that Stradalli has built to date.
To design the R7 Stradalli went back to the drawing board and crafted a completely new frame. Using the experience and intellectual property (IP) it gain from designing its previous frames, the R7 combines the best materials and the best technology to make a lightweight, yet stiff, road bike frame.
Built using high modulus carbon fiber and incorporating a BB30 bottom bracket, oversized chainstays, and a stout downtube, the R7 is designed to transfer the maximum amount of the riders power to the ground. The use of minimal seatstays allows a great ride without compromising any frame stiffness.
"Stradalli has pioneered some of the best hightech full carbon road bike frames in the world, all delivering an incredible value for money" said Thomas Steinbacher, CEO of the Stradalli Cycle Company. "The R7 is our newest design which is more of a revolution than an evolution."
Stradalli have also designed some bikes around the R7 frame including the new R7 Campagnolo Super Record Ti Special Edition which combines the new frame with a Campagnolo Super Record Ti component group and other Campagnolo parts.
About The Stradalli Cycle Company
The Stradalli Cycle Company is based in Florida and sells worldwide to the keen athlete who demands the best equipment. With years of experience in both high tech manufacturing and design as well as a passion for cycling, Stradalli brings passion and innovation to the road racing and mountain bike markets.