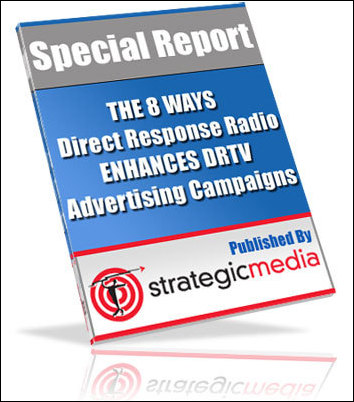 Portland, ME (PRWEB) September 5, 2006
Discover the secret direct response radio advertising strategies that boost DRTV profits Direct response television (DRTV) advertising campaigns, or "infomercial marketing" as it is sometimes called, can be a very profitable venture. Ask any DRTV agency, and they can tell you stories about just how big and how powerful these campaigns can be. However, they are also very risky, with only one in forty or so becoming so successful. A new report released by Jeff Small and Brett Astor at Strategic Media Inc. http://www.strategicmediainc.com reveals the risks associated with DRTV and how another medium, direct response radio, can greatly enhance DRTV profitability.
This new report, "The Eight Ways Direct Response Radio Enhances DRTV Advertising Campaigns" reveals eight different strategies for DRTV campaigns according to where in the campaign development process your infomercial marketing effort may be. Four are targeted at the "pre-airing" phase, or development phase, and four are relevant to those DRTV campaigns already underway with infomercials currently airing. "There's a lot of glory in TV so more is known and shared about it. But radio is less understood and therefore few people know the degree to which it is an incredibly effective compliment to DRTV campaigns. Our goal is to inform people know about how and why direct response radio is so powerful in a way that is objective, supported and succinct. That's why we created this report." Says Jeffrey Small, CEO of Strategic Media and a 10+ year veteran of direct response radio.
"We routinely work with DRTV agencies to craft the strategy that best leverages radio advertising. That's how we've gained the insights we share in this report. But many others could benefit also," says Mr. Small.
Strategic Media, Inc., http://www.strategicmediainc.com , is a direct response radio advertising agency with over a decade of experience building large radio advertising campaigns that generate immediate results and profitable new customers. The Company is a full service direct response radio agency offering radio advertising strategy, radio commercial development, and radio media buying profitability management. Jeff Small, CEO and Brett Astor, Vice President both contribute to the direct response radio industry's first blog, The Radio Sage Blog, located at http://strategicmediainc.com/radio-advertising-blog, where they also share their views on the latest news and trends in radio advertising.
Other articles in the Strategic Media Inc direct response radio article library:
The 5 Biggest Mistakes In Direct Response Radio Advertising
The Eight Ways Direct Response Radio Enhances DRTV Advertising Campaigns
The State of Direct Response Radio Industry: It's Data or Die
Integrate the Advantages of the Web with the Power of Direct Response Radio
# # #