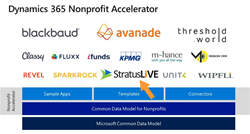 "The Nonprofit Accelerator brings together solutions built with and for nonprofits by our innovative and global partners [like StratusLIVE] who are committed to collaboratively designing systems that embrace shared data standards… for nonprofits." Justin Spelhaug, GM, Microsoft Philanthropies
VIRGINIA BEACH, Va. (PRWEB) December 04, 2018
StratusLIVE, a leading provider of cloud-based, enterprise-class CRM and donor management software for nonprofit organizations and corporate social responsibility teams, has been selected by Microsoft as one of a small number of global software solution providers to contribute expertise and direction for two major initiatives designed to help nonprofits improve mission delivery and insights. The two initiatives are the Common Data Model for Nonprofits and the Dynamics 365 Nonprofit Accelerator.
Microsoft invited StratusLIVE to participate as a premier partner with years of dedicated experience building and deploying enterprise-class fundraising, development, and advancement solutions for the nonprofit community. StratusLIVE delivers one of the only end-to-end cloud product suites for nonprofit fundraisers, built on the Dynamics 365 platform and widely adopted by charitable organizations across the US.
Justin Spelhaug, General Manager, Microsoft Philanthropies summarized the announcement in this way: "We are excited to launch the Dynamics 365 Nonprofit Accelerator to drive greater impact in the nonprofit sector. The launch of the Common Data Model for Nonprofits is an unprecedented step that aligns software providers like Microsoft with nonprofits and donors to encourage interoperability and data transparency. The Nonprofit Accelerator brings together solutions built with and for nonprofits by our innovative and global partners [like StratusLIVE] who are committed to collaboratively designing systems that embrace shared data standards to deliver true end-to-end solutions for nonprofits."
"We are excited to be selected by Microsoft to participate in these initiatives," says Jim Funari, StratusLIVE CEO. "While StratusLIVE will continue to enhance, improve and develop new capabilities for our customers, the expansion of Microsoft's commitment to this sector and the involvement of many other partners will result in collaborative solutions that address the entire range of nonprofit needs on a common, scalable architecture."
About StratusLIVE
StratusLIVE is a leading provider of cloud-based, enterprise-class solutions for nonprofit organizations. The StratusLIVE suite features enterprise-class relationship management, business intelligence, analytical marketing, online fundraising, and a Workplace Giving Platform designed to modernize workplace philanthropy. The entire product suite is natively integrated with the Microsoft Dynamics 365 platform. StratusLIVE is headquartered in Virginia Beach, Virginia, with offices throughout the United States.