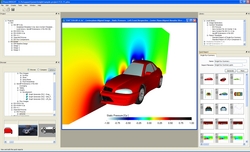 PowerINSIGHT offers a graphical user interface to easily configure and generate company best practice comparative results, interactively browse and compare results and automatically generate reports—all without scripting.
Burlington, MA (PRWEB) October 13, 2010
Exa® Corporation, a global innovator of fluids simulation (CAE/CFD) solutions for product engineering, today introduced the newest addition to its product suite, PowerINSIGHT™. With PowerINSIGHT, Exa provides a powerful solution that fully automates and facilitates the simulation results generation, analysis and reporting process, enabling engineers to gain insight into product performance, and to make simulation-based design decisions faster than any other method.
As engineering simulation becomes more widespread throughout the design and development process, and development timelines become ever shorter, companies are finding themselves with a wealth of simulation data that often goes underutilized. Engineers find it difficult to review and compare results from different simulation runs and creating compelling reports too tedious and time consuming, frequently resulting in a lost opportunity to fully leverage their simulation data. In an effort to expedite and improve the creation and exploiting of results, Exa developed PowerINSIGHT to provide an easy-to-use, efficient and effective results analysis process.
"PowerINSIGHT offers a graphical user interface to easily configure and generate company best practice comparative results, interactively browse and compare results and automatically generate reports--all without scripting," commented Joseph Canha, Director of Product Management for Exa. "We found our customers relying on difficult-to-maintain custom scripts to generate their simulation results with no consistency from person to person, or department to department." PowerINSIGHT's graphical user interface allows customers to easily create, configure, and apply result-generation templates so results browsing and comparison is easy, even on previously archived results data.
POWERINSIGHT BENEFITS:

Automation: Create and organize viewable results immediately following simulation
Insight: Interactively browse and compare run results in real time
Communication: Quickly generate compelling reports, including run comparisons
Consistency: Ensure application of best practice analysis methods
POWERINSIGHT CAPABILITIES INCLUDE:

Template Builder and Library: Easily define and manage company-standard PowerINSIGHT content generators (which produce images, graphs, and tables) and content templates; graphical user interface enables users to dynamically capture scenes from PowerVIZ®; define and manage report templates; publish templates to a corporate library to capture and reuse best practices
Organize and Manage Sets of Simulation Data: Manage a hierarchy of simulation runs, associated templates, and corresponding results and reports
Easily Tune and Configure Templates: Tailor templates with ease using a user-friendly graphical interface to accommodate the specific needs of a run or to enable comparison with different product variants or previous simulation results
Automatically Generate Content: PowerINSIGHT drives Exa PowerVIZ and other tools to generate content based on the template instructions; easily execute content generation jobs in batch, processing large amounts of data in the background ready for the engineer to analyze
Browse and Compare in Real Time: Rapid, interactive browsing of results including real-time comparison of runs; easily navigate tree of runs and results with thumbnail preview images
Rapid Report Generation: Fast, automated generation of reports presenting results, including run comparisons; interactively create and view standard reports or create one on-the-fly; automated generation of configurable professional-quality PowerPoint presentations
About Exa Corporation
Exa Corporation develops, markets, and supports a suite CAE and CFD simulation software tools including PowerFLOW®, PowerDELTA®, PowerCLAY®, PowerVIZ®, PowerSPECTRUM®, PowerACOUSTICS™, PowerINSIGHT™, PowerCOOL® and PowerTHERM® along with professional engineering consulting services. Exa's products and services enable engineers to create competitive designs, while shortening product design cycles, and speeding time-to-market. A partial customer list includes: AGCO, BMW, Chrysler, Ford, Hyundai, Kenworth, MAN, Nissan, Peterbilt, Renault, Scania, Toyota, Volkswagen, and Volvo Trucks.
Founded in 1991, the company is headquartered at 55 Network Drive, Burlington, MA, USA 01803. Tel: 1.781.564.0200; Fax: 1.781.564.0299; URL: http://www.exa.com
Exa, PowerFLOW, PowerCLAY, PowerTHERM, PowerCOOL, PowerSPECTRUM, PowerDELTA and PowerVIZ are registered trademarks and PowerACOUSTICS and PowerINSIGHT are trademarks of Exa Corporation.
###