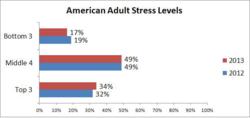 Significantly fewer respondents indicated they were "more stressed than a year ago", 27 percent in 2013 vs. 33 percent in 2012.
(PRWEB) March 30, 2013
Polaris Marketing Research Inc. announced today findings from their latest survey of online Americans, supported by Research Now for data collection and analysis: This survey is the second wave of a study originally done in 2012 to evaluate levels and sources of stress among adults, and different ways of dealing with their stress.
Levels of stress among online American adults did not change between 2012 and 2013. Last month, 1200 online American adults were asked to rate themselves on a stress scale, where 10 is "very stressed" and 1 is "not at all stressed". Currently, 17 percent of online American adults say that their stress level is 1, 2 or 3, or quite low (Bottom 3). On the other hand, 31 percent indicated their stress level is 10, 9, or 8, or quite high (Top 3). That compares to 2012, where 19 percent of respondents rated themselves in the Bottom 3 and 34 percent rated themselves in the Top 3.
Additionally, even though stress levels are unchanged, perception of stress seems to be leveling off, as 51 percent said their stress levels were "about the same" as in 2012 (significantly more than the comparable 2012 measurement of 46 percent). Significantly fewer respondents indicated they were "more stressed than a year ago", 27 percent in 2013 vs. 33 percent in 2012. Further evidence that stress perceptions are changing is that significantly more respondents in 2013 said they are "less stressed than others", (34 percent, which compares to 30 percent in 2012).
"The survey results can't tell us whether real stress levels are decreasing, but it can tell us that people's perceptions of stress are decreasing. So whether we have less stress or just think we do because we're getting used to it, the result is positive," explained Polaris President, Jan Carlson.
Sources of stress are also changing. Significantly fewer individuals mentioned work issues, lack of time, health concerns, and family and relationship problems in 2013 than in 2012. Happily, significantly more 2013 respondents said they had "no main source(s) of stress" than did 2012 respondents (12 percent in 2013 vs. 5 percent in 2012).
As in 2012, online American adults use many different strategies to deal with their stress. In 2013, fully 77 percent said they would be very likely or likely to get a doctor to prescribe medication. Another 73 percent would be very likely or likely to write in a journal and 71 percent would be very likely or likely to seek therapy or counseling. Among the least common ways of dealing with stress are to watch television (13 percent), socialize with friends or family (12 percent) and to listen to music (9 percent).
About Polaris Marketing Research
Founded by Jan Carlson, Polaris Marketing Research is a full-service firm that provides state-of-the-art online interactive marketing research reporting, interviewing and data collection, quantitative and qualitative research expertise and personalized project management.
Atlanta-based Polaris Marketing Research is affiliated with the Council of American Survey Research Organizations, the American Marketing Association and the American Society for Quality.
About Research Now
Research Now, the leading digital data collection provider, powers market research insights. We enable companies to listen to and interact with the world's consumers and business professionals through online panels, as well as mobile, digital and social media technologies. Our team operates in 24 offices globally and is recognized as the market research industry's leader in client satisfaction. We foster a socially responsible culture by empowering our employees to give back. To find out more or begin a conversation with us, visit http://www.researchnow.com.