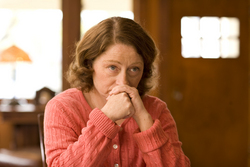 We see family caregivers every day who are stretched to the breaking point – their caregiving situations impacting their personal and professional lives as well as their health
Omaha, NE (Vocus) July 6, 2010
Caregiver stress is a condition that ranks among the most serious of aging-related illnesses. But it doesn't strike seniors – not directly, anyway. The stress of caring for another can produce a variety of physical and emotional issues ranging from mild headaches to illnesses that can lead to the death of care providers who are charged with the full-time care of an elderly loved one. So, without a doubt, seniors can suffer as well.
If you're a family caregiver under stress, you might not realize that the disturbed sleep; back, neck and muscle pain; fatigue; headaches; high blood pressure; chest pains; skin disorders – even loss of hair – are stress symptoms, likely the direct result of caregiver stress. Stress often affects caregivers in their "day jobs" as well.
"We see family caregivers every day who are stretched to the breaking point – their caregiving situations impacting their personal and professional lives as well as their health," said Paul Hogan, co-founder and chairman of the Home Instead Senior Care® network. "That's why industries that serve seniors will become so important to the health and well-being of older adults and their families as more Baby Boomers, who are now caring for elderly loved ones, become seniors themselves. Family caregivers oftentimes cannot escape the fact that they need help."
Consider these facts from the Alzheimer's Association publication, 2010 Alzheimer's Disease Facts and Figures:
-- One study found that spouses of caregivers to seniors who were hospitalized for dementia were more likely than caregivers of people who were hospitalized for other diseases to die in the following year.
-- More than 40 percent of family and other unpaid caregivers of people with Alzheimer's and other dementias – estimated to be 10 million caregivers – rate the emotional stress of caregiving as high or very high, compared with 28 percent of caregivers of other older people.
-- About one-third of family caregivers of people with Alzheimer's and other dementias have symptoms of depression.
The 2009 National Alliance for Caregiving/AARP survey on caregiving in the United States found that 60 percent of family caregivers of people with Alzheimer's and other dementias were employed full time or part time. Of those who were employed, two-thirds said they had to go in late, leave early or take time off because of caregiving; 14 percent had to take a leave of absence; 10 percent had to reduce their hours or take a less demanding job and 10 percent had to quit work entirely or take early retirement due to caregiving. The executive summary of that study of family caregivers who are dealing with Alzheimer's and other dementia conditions is available for download.
"These dramatic statistics drive home the need for various resources from home health to non-medical assistance that families will need to help provide elderly the support they require as they age," Hogan noted. "Among the most important is respite – family caregivers need time away."
That need for caregiver stress management is one reason the Home Instead Senior Care network is sponsoring a free, five-day cruise for one lucky caregiving hero. As an additional bonus, friends or family who nominate a caregiver for the contest are entered into a separate drawing for a laptop computer and camcorder. August 15, 2010, is the deadline to enter or nominate someone else for the drawing, which will take place August 16, 2010. Caregivers, as well as their friends and families, can learn more and enter at the cruise contest Web site – cruise.caregiverstress.com.
For information about senior care business opportunities with Home Instead Senior Care, register for the next Home Instead Senior Care Franchise Opportunities one-hour Webinar, scheduled for July 21 at 1 p.m. Eastern Time.
###