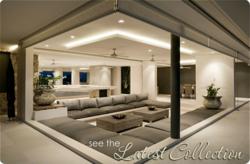 Bamboo has unsurpassed softness and appeal and these will delight.
Branson, MO (PRWEB) April 24, 2013
Eco Stylish Home has just made available their expanded collection of luxurious throws. ESH's variety of high quality chair throws in superb textures come in bright or muted colors, substantial or lightweight fabrics, and stripes or solids.
The line of natural bamboo viscose throws feature sophisticated, duel color, herringbone patterns with classic fringe knotting. Deep, solid, saturated colors are available as well in luscious plum, cranberry, blueberry, and a stunning golden rod yellow throw to name a few.
"Bamboo has unsurpassed softness and appeal and these will delight," explained CEO, Glad Burgio. "With the tight twill weave, classic styling, and handmade tassels, customers will surely desire more than one!"
To add to the excitement, Eco Stylish Home also released numerous organic cotton throws. One standout is the brushed cotton throw that is loomed to a substantial weight. Features include hand-twisted fringes and a velvety texture for the ultimate in comfort!
For sailors and beach goers, Eco Stylish Home offers striped bamboo throws that are the perfect accessory for chilly nights on the high seas. With the classic striped design in equally classic colors, one will always be stylish and chic!
Whether it is a chair throw for decoration, an accessory for watching the stars, or a lazy afternoon nap, Eco Stylish Home has you covered!
Eco Stylish Home provides a complete line of quality home furnishings and decor for the eco-conscious consumer. ESH curates the best of textiles including organic cotton and bamboo, the world's most renewable resource. Launched in September 2011, ESH is located in the heartland of America, Branson, MO. Reach them toll free at 866-997-3434 or http://www.EcoStylishHome.com.