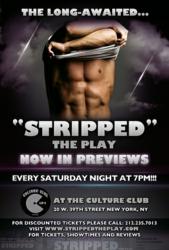 Stripped, the Play is heartwarming and funny, and we hope will leave you thinking about the complexities of the male psyche like never before
New York, NY (PRWEB) September 29, 2012
New York City is a major tourist destination in large part due to the thriving theater scene. Going to a Broadway or off Broadway show is a great conclusion to an amazing day of sightseeing and shopping. Among NYC's latest hit off Broadway shows is Stripped, the Play. This comedic adaptation of an all male exotic dance revue is based on the real life experiences of producer and cast member Steve Stanulis and written and directed by Geoffrey Cantor, who plays Steve Savage.
For those traveling to New York City for a long weekend with friends, it goes without saying that a Broadway or off Broadway show is high on the to-do list. You don't have to stick to the Times Square area to see great theater. Venture downtown and get a first glance today at what will be tomorrow's award winning play. Off Broadway offers theater enthusiasts original, unique plays that can not be seen any where else. Stripped, the Play is as original as they get and in NYC that's saying a lot.
Stripped, the Play is so much more than just an all male exotic dance revue; it is about coming to terms with ourselves and leaving our egos behind. The men of Stripped are not just male strippers; they are men who come from every walk of life who choose to spend their days in an office and their nights on the dance floor. This compelling story is about the intricacies of juggling these two lives and the human bond that is formed as they share with each other their most intimate emotions. Stripped, the Play delivers its message in grand comedic style and will have you rolling with laughter. Its exhilarating choreography will leave audiences breathless and wanting more.
"New York City is like no other city in the world. We are so happy to perform in front of sold out audiences that come from across the country and locally to see our show. Stripped, the Play is heartwarming and funny, and we hope will leave you thinking about the complexities of the male psyche like never before." producer and cast member,
Steve Stanulis
Stripped, the Play has been showcased in the New York Times and was featured on NBC New York Channel 4. Critics are saying this "acerbic and hilarious look at the world of male strippers as seen through the eyes of five male peelers" is a must see if you are visiting or live in the New York City area. Group discounted tickets are available for those celebrating birthdays, bachelorette parties, girls night out or just getting together with friends for a night of wickedly, hilarious fun.
Stripped, the Play is performed live at the Culture Club, located at 20 West 39th Street, New York, NY 10018. To learn more about Stripped, the Play or to inquire about group ticket offers, please visit http://www.strippedtheplay.com or call (212) 235-7013. Tickets can also be purchased through Ticket Turtle.
About Stripped, the Play
Stripped, the Play is a unique look into the complex male psyche through the eyes of an all male dance revue. This off Broadway show performing in New York City reminds us that behind every exotic male dancer is a man dealing with the issues and struggles of daily life. Producer and cast member Steve Stanulis brings a very personal perspective to the story through years of experience in juggling two lives, former NYPD officer by day and male stripper by night. This critically acclaimed show weaves together breath taking choreography and hilarious comedy making it a highly entertaining night out with friends. ###