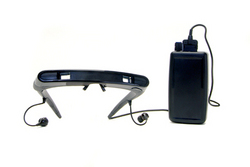 Washington, DC (PRWEB) November 18, 2009
A new virtual reality device, the GaitAid, can help stroke patients learn to walk correctly again, reports a study to be published in the Journal of Geriatrics Association.
There are 6.5 million American Stroke survivors and 750,00 Americans who suffer a stroke each year. It is the leading cause of adult disability in the U.S. and Europe.
Gait impairment is common after Stroke with 60% of survivors living with a walking-related disability. Walking incorrectly not only creates a stigma for these patients, but it also makes them more susceptible to injury and directly affects their quality of life.
For normal walking, the brain relies on:

Proper sense of timing in performing actions,
A clear sense of direction of the targeted movement
Internal sensory feedback telling the brain that the body is moving
External sensory feedback to movement through vision and hearing
Perception of space
By processing this information, the brain performs the needed adjustments of the body.
When a Stroke diminishes these mechanisms functions on one or both sides of the body, walking becomes difficult and inefficient, leaving patients a little less "in touch" with themselves, where they stand, and where their body parts are located in relation to each other through the walking cycle.
The GaitAid, a portable home-use device, provides an alternative means to balancing and controlling the walking body. It includes special glasses and headphones which display an image super-imposed on the real environment and plays a sound for every step.
No training is needed, simply put the device on and start walking. Walking sessions from 5-30 minutes with the GaitAid improve the body's sense of position and movement, balancing steps and enhancing the sense of timing for these movements. The brain relearns to control walking and creates new neural pathways around damaged areas so the improvement lasts even when the device is not in use.
Developed by MIT educated Computer Science Professor Yoram Baram, PhD, the GaitAid has been shown in clinical studies to improve walking for Stroke, Parkinson's disease, Multiple Sclerosis and Cerebral Palsy and is registered with the FDA.
The GaitAid is available for a 30 day trial period from MediGait's website: http://www.medigait.com
For more information:
888-777-9906
support(at)medigait.com
http://www.medigait.com
###