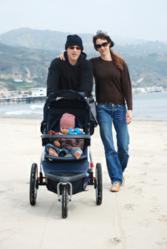 The quality is just like a premium mountain bike; you can see it and feel it when you push it. Active parents expect that today.
Alameda, CA (PRWEB) August 02, 2011
Summer time means outdoor adventures such as hiking along dirt trails, strolls along the beach boardwalk or a day out at the park, says Amy Tanathorn, owner of Stroller-Envy.com, a stroller research and consumer reviews website. These activities are now more accessible than ever for families with babies and young children who need a stroller that can handle the terrain.
Just as the popularity of rugged, yet suburban sport utility vehicles became the national craze, so have all-terrain strollers, the baby-gear equivalent.
"Parents are shocked and delighted at the versatility of a 3-wheeler, like the BOB Revolution stroller, the top contender in its class," says Amy. "The quality is just like a premium mountain bike; you can see it and feel it when you push it. Active parents expect that today," she continues.
The best all-terrain strollers have precision shocks for the bumps in the road and a big sun canopy for your child's protection. The large rear tires are either air-filled for extra suspension or foam-filled so they don't go flat. The feature that distinguishes an all-terrain stroller from a jogger is the front swivel wheel. This gives the versatility parents require for turning tight corners that a fixed wheel on a jogger does not provide. Consumers report with their online reviews that they can jog with the swivel wheel locked straight.
As the popularity for all-terrain strollers increases, so has the competition among manufacturers. Premium models like the Baby Jogger City Elite and the Phil and Teds Explorer undergo feature enhancements every couple of years to stay on top. For example, new features for 2010/11 for several brands include a larger sun canopy with pop-out sun visor and better seat support with ventilation technology. However, often times one mainstay feature sells the customer.
Sarah and Derrick are two different parents from California who bought the Baby Jogger City Elite for the patented Quick Fold Technology. Sarah says in her 5-star review that, "After looking at all these similar three-wheel strollers, I decided on the City Elite mainly for the quick-fold because this is my main stroller that I need to fold and unfold every day."
Other more budget friendly all-terrain strollers like the Jeep Liberty Limited and the InStep Grand Safari have kept their features the same over the years with little design variation. But sales remain strong for these brands for the less expensive price tag than more premium brands like BOB, Baby Jogger and Phil and Teds.
About Stroller-Envy.com
Specializing in meaningful stroller research and ratings, Stroller Envy reviews brands like Maclaren, Baby Jogger, BOB, Jeep, Combi and more. Read in-depth descriptions enhanced with photos, video demos and detailed measurements. Discover actual consumer feedback and where to find the best deals. All the research you need in one place.
###