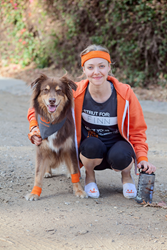 Kanab, Utah (PRWEB) June 28, 2016
Amanda Seyfried announced this morning on TODAY that she and her dog Finn are the national spokesperson and spokesdog for Best Friends Animal Society's Strut Your Mutt presented by BOBS from Skechers national fundraising walks. The online fundraising event brings together rescue groups, shelters and individuals to celebrate the collective effort of saving the lives of shelter pets in 14 cities across the country (see below for dates). Additionally, through a virtual Strut Your Mutt Challenge, supporters can raise money to help homeless pets in their own communities or for national programs.
As part of Strut Your Mutt, Best Friends Animal Society started the #9000Steps Challenge to raise awareness for the estimated 9,000 dogs and cats killed every day in America's shelters simply because they do not have a safe place to call home. You can watch Amanda and Finn's road to preparation here.
Participants across the country can join the challenge by visiting StrutYourMutt.org to sign-up. Then on the 9th day of each month, report the #9000Steps accomplishment for a chance to win prizes. The grand prize winner will receive a BOBS from Skechers shopping spree and a photoshoot with their own pet to be featured in an ad in Best Friends Magazine.
"There are 9,000 dogs and cats killed every day in America's shelters due to not having a home--that's an estimated 4 million per year," said Amanda Seyfried. "Best Friends is working around the country with local rescue groups and shelters to bring that number down to zero. Let's each take 9,000 steps in the right direction to save them all!"
Since 2010, Best Friends has raised more than $7.2 million for its animal welfare partners through Strut Your Mutt. The national goal for 2016 is $3 million.
To get involved, start your own fundraising page or donate to an existing team, please visit StrutYourMutt.org.
Special thanks to presenting sponsor BOBS from Skechers and national sponsors Instinct and Too Faced.
Participating cities and dates:
Sept. 10 Portland
Sept. 11 Minneapolis/St. Paul
Sept. 17 Austin and Kanab, UT
Sept. 18 San Francisco
Sept. 24 Atlanta and Jacksonville, FL
Oct. 1 New York City and D.C. Metro
Oct. 8 St. Louis
Oct. 15 Houston and Phoenix
Oct. 22 Los Angeles and Salt Lake City
About Best Friends Animal Society
Best Friends Animal Society is the only national animal welfare organization dedicated exclusively to ending the killing of dogs and cats in America's shelters. A leader in the no-kill movement, Best Friends runs the nation's largest no-kill sanctuary for companion animals, adoption centers and spay and neuter facilities in Los Angeles and Salt Lake City as well as lifesaving programs in partnership with more than 1,400 rescue groups and shelters across the country. Since its founding in 1984, Best Friends has helped reduce the number of animals killed in American shelters from 17 million per year to an estimated 4 million. By continuing to build effective initiatives that reduce the number of animals entering shelters and increase the number who find homes, Best Friends and its nationwide network of members and partners are working to Save Them All®.
To become a fan of Best Friends Animal Society on Facebook go to: http://www.facebook.com/bestfriendsanimalsociety
Follow Best Friends on Twitter: http://twitter.com/bestfriends